Learning through Landscape advisor Chris Raven describes the construction of a multifunctional outside play area at a primary school in Isleworth, Middlesex
In December 2015, Atkins secured a commission at Ivybridge Primary School in Isleworth to design, tender and oversee approximately £160k of landscape improvements around an existing school.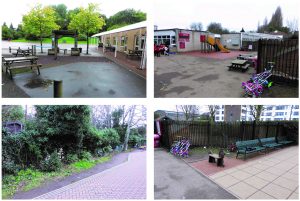 The school possessed bland and uninspiring external spaces, with large areas of open tarmac and inaccessible boundaries, overgrown with vegetation. Our brief was to design multi-functional landscape features that support learning across the curriculum while also providing improved playtime resources for Reception and Key Stages 1 and 2.
Using our Learning through Landscapes (LTL) expertise we followed a whole-school consultation process from day one, gaining comment and inspiration from teachers, pupils, parents and maintenance staff as our designs evolved. We believe this is the best way to ensure the scheme meets and hopefully exceeds the requirements of the school's end users.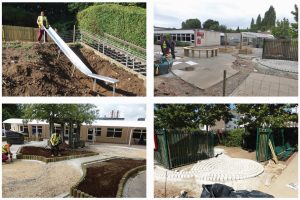 Initially, we provided a number of consultation questions, such as 'what do you currently like/dislike externally?' and 'what would you like to be able to do in your school grounds?' The results of these surveys informed our brief and initial design options. We never ask simply 'what do you want?', as often this leads to a list of products – typically the kids' favourites from the local play area – and as designers we would rather design bespoke, site-specific solutions where practicable.
We developed three initial sketch options, including annotated plans, hand-drawn sketches and precedent images. We have always found that quick sketches are easier than 2D CAD plans or virtual reality graphics for the school community to interpret and understand. Over the years, we have also developed an extensive library of inspirational precedent photos.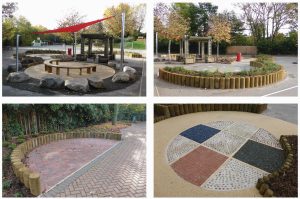 We supported our options at each stage by ever more detailed indications of costs for the different elements and features. By providing cost estimates for different options, we encouraged the school to use the design process to develop pupils' mathematical and comparison skills, weighing up the pros and cons of different options and working out what they can afford within a given budget.
Inevitably, early consultation comments include aspirations for things such as bouncy castles and helter skelters. Rather than dismiss these early ideas as inappropriate or unachievable, or take them literally, we strived to design for the sensations and/or experiential qualities the children are seeking with these elements. For instance, we installed a multifunctional bouncy broad belt feature at Ivybridge. This not only provides the 'bouncy' sensation, but is also an inclusive feature that can be used to develop balance and motor skills, or simply as somewhere to lounge with friends.
The 'helter skelter' idea was interpreted as a yearning to spin and or swing, which we addressed with a basket swing Again, this type of swing is more inclusive and multifunctional than a traditional swing, and it was carefully sited away from foot traffic and potential collisions.
The school also liked the idea of introducing wet play. So that this extremely valuable play and learning resource was available to both Reception and Key Stage 1, we designed a shared wet play feature, with a mushroom and winder pump, a weir, and a rill that connects the two areas beneath the separating boundary fence and channels water to an existing surface water drain.
Other new features included:
sensory areas with tactile floorscape detailing and colourful/aromatic/rustling plants;
formal and informal play opportunities;
a cycle/trike track with undulations and obstacles;
various covered and open classroom/gathering spaces;
nature trails;
growing areas with rainwater collection for irrigation;
ball and sports features; and
floorscape graphics and games
Traverse Wall hand grips and wall-mounted hoops and targets enliven previously drab walls, and slide and climbing features make a previously unusable slope one of the main attractions at play time.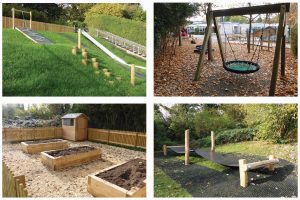 Works were undertaken primarily during the summer holiday and completed in November 2016. The construction phase went very well and Ginkgo Gardens brought the whole scheme to completion on time, within budget and to a very high standard.
Projects like this make me very proud to be a landscape architect with LTL expertise. We are sure the school will enjoy their new grounds and find lots of innovative ways to keep taking the curriculum outside of the classroom.
See further photographs of the site before and during construction and at practical completion.
---
Chris Raven: Senior Landscape Architect, Atkins (Leeds); CMLI, MA, BSc. LTL Landscape Advisor