A new area of work for the LI will examine how landscape can provide the things people value and connect to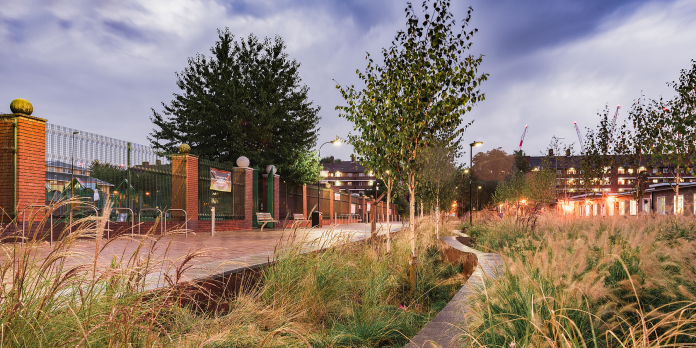 Kate Bailey CMLI MRTPI, Chair of the Landscape Institute Policy Committee, introduces a new area of work for the Committee and invites members' thoughts.
---
'What is our offer to society?'
So asked leading members of the Landscape Institute at the Advisory Council meeting on 3 November 2017. A big question for the profession concerns the value it can add to society, both now and in the future.
My view is that we landscape architects, planners and managers are the most socially aware of all built environment professionals, as we are primarily concerned with building healthy and liveable places for future generations. We understand that communities are built on shared experiences in outdoor spaces and meeting places, where different generations come together to tell stories, listen, and learn to appreciate each others' lives.
LI members work with landowners and developers to create landscapes that deliver the client's financial and environmental requirements. We also work with communities – though the groups who come forward to engage with our projects tend to be represented by the more affluent and outspoken members of society. We know, however, that we have an individual and collective responsibility for the wellbeing of society and the wellness of individuals – including the less privileged – and are duty bound to act in the public interest.
The LI is part of a wider community of shared interests. Medical and social science professionals, for example, are beginning to shift towards a preventative focus for health. A recent High Court legal decision protects a Special Area of Conservation in the Ashdown Forest, and by extension all designated SAC's in the UK, from air pollution that would be caused by additional car fumes generated in new housing developments. Even economists are beginning to move away from the use of economic growth and GDP as a proxy for the wellbeing of populations.
Landscape professionals have many opportunities to act as intermediaries between owners, developers and future users of public landscapes. As LI President Merrick Denton-Thompson often says, we operate 'at the interface between [human society] and natural systems'. Our work takes us into mixed urban centres, diverse suburban neighbourhoods, and more remote rural locations, where communities may appear divided and individuals may feel isolated. In many such locations we will find opportunities to incorporate measures that promote socially responsible behaviours and greater social justice – one of the key aims of the United Nations Sustainable Development Goals.
At present, the LI is working to ensure that the value of landscape for health and wellbeing becomes an integral part of the emerging natural capital accounting process. With very little adjustment to our working practices, LI members can provide positive support to individuals and social groups who are seeking to improve the quality of their own lives and those of others.
In 2018, the LI's Policy and Technical Committees will begin to produce papers to improve our understanding of the benefits of landscape. We will examine how it can positively impact the way and quality of life, wellbeing and wellness of individuals, social groups and communities – what people value and what they respond positively to. This theme will also influence our work on developing new models for housing provision – what people feel about a place and what they connect to.
If you would like to contribute to this new area of work, please send your thoughts to policy@landscapeinstitute.org.