Report of the joint online CPD session organised by LI South East with CIEEM SE. Words by Alice Harwood, South East Committee Member
On 12th November, LISE and CIEEM South East facilitated a joint online CPD seminar, 'Landscape and Ecology in Changing Climate'.  This multi-disciplinary and collaborative approach is reflective of the ethos of the LI, in the knowledge that skill-sharing across disciplines is vital to tackle the big issues of our time.
The Landscape Institute and CIEEM as organisations are actively working to respond to the Climate Change and Biodiversity Emergencies.  The Landscape Institute published their 'Climate and Biodiversity Action Plan' in May 2020 which sets out what action the organisation is proposing in response to the Emergency.  In September 2020 this was followed by a Policy Paper, 'Greener Recovery'. This proposes five principles to guide UK Government action in achieving a sustainable recovery from the Covid-19 pandemic.
This CPD session is a direct response to the LI Action Plan call to arms, requiring members to deepen and broaden their skillset and knowledge to improve their response to the Climate and Biodiversity Emergency.
The speakers for this event were Dr Debbie Bartlett CMLI FCIEEM Professor of Environmental Conservation at University of Greenwich, and Peter Massini CIEEM Lead of Green Infrastructure at the Greater London Authority.
Debbie Bartlett opened her presentation with an introduction to the Cool Towns Project.  This four year initiative is a collaborative project with European partner organisations; the ultimate purpose being to provide cities and municipalities with knowledge and tools to move towards heat resilience in the face of a warming climate.  Whilst the themes of sustainable water management and enhancing biodiversity have been successfully mainstreamed within the build environment professions, heat resilience and the risks posed by heat stress is a factor not discussed and addressed with the same urgency.  However heat stress causes excess deaths; aids proliferation of infectious disease; and causes physical damage and disruption to urban and transport infrastructure.  Failing to address this is a serious omission in the future-proofing of out towns and cities. The Cool Towns Project seeks to place Heat Resilience high on the Climate Emergency agenda and empower the urban planning sector with practical, viable and effective mitigation through design and engineering. Read more in Debbie's article in the Landscape Journal 1:2020 (pp52-54) and on Cool Towns website.
Green Infrastructure will be a fundamental part of this urgently required response:  the good news is that we already understand the wealth of interrelated benefits increasing GI in our towns and cities can bring.  The solutions tend to have multifunctional  benefits.  There are still, unfortunately, barriers to these solutions being carried out in practice.  One of the biggest ongoing challenges in embedding these solutions into new developments is that it is still the case that far too often Green Infrastructure is seen as an add-on, to be fitted into a scheme once the bulk of layout has been completed.  This means opportunities are lost as insufficient space is allowed and budget is not ringfenced for the necessary engineering works.  In order to create high functioning nature-based solutions, natural systems need to be planned in from the outset, as a fundamental part of the urban realm, as vital to its function as roads.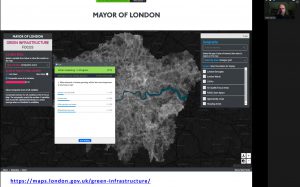 Peter Massini is well aware of this need for an attitude shift.  In his presentation he described the work he has been involved with in changing mindsets;  he says 'many developers see landscape as an adornment; we're encouraging them to see it as infrastructure.'
In his presentation, Peter joins the dots between the Victorian legacy of parks and tree planting for the health of the urban poor.  Whilst this seemingly altruistic concern was actually underpinned by a more cynical aim of ensuring healthy workers were available for economic exploitation, the long term benefits of this thinking have evolved and refined through the eras of plan-making in London. In the early 1940's the Abercrombie Plan for London emerged, which created a vision for an interconnected parks system, linked via green streets that would allow citizens to traverse the city from the green belt to the heart, all within natural corridors and parklands.  Whilst healthy activity remained the primary focus in the 1940's by the beginning of the 21st Century, climate change had altered the conversation.  Nevertheless the essence of this early prototype has provided a basis from which the concept of the London Green Grid evolved, the focus changing towards understanding and maximising the benefits multifunctional natural systems can bring to the urban environment.
Peter provided case studies of several completed projects in Greater London where re-engineering and retrofitting both urban parkland and the city streetscape provided multifunctional benefits for people and for the environment, demonstrating that this work is both possible and effective.  The key to its successful delivery is embedding requirements for GI in policy; as well as demonstrating by example the improved quality of place that can be achieved through integrating the urban and the natural environment.
If you would like to view these presentations, they are available at:
1 Introduction_LI&CIEEM SE A Wadhawan 12 Nov 2020
2 Cool Towns_LI&CIEEM SE D Bartlett 12 Nov 2020
3 Greener City_Changing Climate_LI&CIEEM South East P Massini 12 Nov 2020
Catch the video of the presentation on the LI Campus.
Reference: Bartlett D (2020) Mitigating heat stress in public open spaces. Landscape Journal. 1:2020 pp52-54 .