On 30 June 2020, Adam White FLI PPLI welcomed over 200 guests to his final Landscape LI President's Review webinar, where he handed the reins to our new President Jane Findlay.
On 30 June 2020 I was delighted to welcome over 200 guests to my final Landscape LI President's Review webinar, where I handed the reins to our new President Jane Findlay. It was great to see so many people joining the webinar, with lots of familiar faces from around the world that I have met during my Presidency.
You can watch an edited version of the webinar here.
Catch the 25-minute edit of President's Review in full here.
Global stage
My international guests included:
James Hayter from Adelaide, Australia, President of the International Federation of Landscape Architects;
Sujata Kohli, President of the Indian Society of Landscape Architects; and
Iris Hoi, President of The Hong Kong Institute of Landscape Architects
Each gave an insight into their own experience of life during lockdown and shared stories about the impact COVID-19 has had on the profession in their country.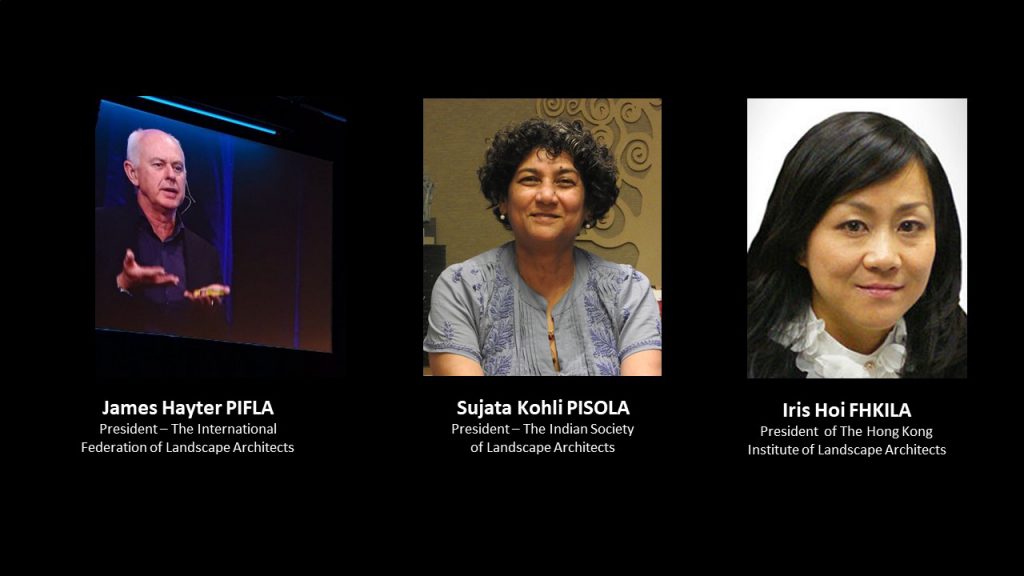 James opened by sharing a message on behalf of IFLA:
As President of the global community of landscape architects I would like to say thank for your contribution during your Presidency of the Landscape Institute. You have been an inspiration and a great ambassador for the profession – not just in the UK, but globally. It has been a pleasure getting to know you and all at IFLA look forward to continuing to work with you in the future.
Iris Hoi spoke of Hong Kong's effective management of COVID-19, including early lockdown, and of living in the context of regular street-based protests. She reflected on the importance of Government recognition of the profession in Hong Kong.
Sujata Kohli focused on the relative youth of the landscape profession in India and the importance of education and skills to the growth of the profession.
Presidential inspiration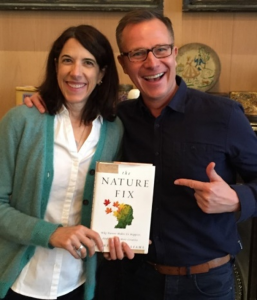 Florence Williams, keynote speaker at the 2018 LI Awards author of the Nature Fix, then joined us from Washington DC. I was keen to hear from Florence again and discuss the importance of time in nature in light of the global lockdown.
Florence began by thanking the landscape profession for the work we do to protect, conserve and enhance public green spaces. For a number of years, she has explored – with credible science from around the world – how being outside can improve your health, prevent depression, and strengthen relationships. The need for nature to restore us is primal and recognizing that is key to a better stare of mind.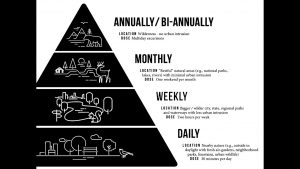 Flo talked about the Nature Pyramid – the four tiers of nature exposure we need in our lives. At the base is our nearby nature where we spend most of our time – the good views, local green spaces, pocket parks and trees in our towns and cities. Next, we need more immersive visits to large parks and woodlands and to spend half a day outside once in a while. At the top of the pyramid is the rarer, but critical and special, exposure to really wild places – the places that offer experiences at important times in our lives when we are going through change, grief, trauma, or the need to figure things out about ourselves.
We discussed how the wilderness is a great place to do this but we've lost sight of that. So next time you feel down, frustrated, anxious, or in need of inspiration, remember the nature pyramid.
Welcoming new Fellows
Fellow of the Landscape Institute (FLI) is our highest form of Chartered Membership, awarded to our foremost innovators, leaders and ambassadors. The award of Fellowship of the Landscape Institute recognises top experts in landscape, as well as those who have made a special contribution to the development and promotion of the landscape profession.
The webinar gave me the perfect opportunity to congratulate our members that we have recently awarded FLI status:
Kim Wilkie FLI
Carolyn Willitts FLI
Tom Stuart Smith FLI
Richard Sneesby FLI
John Wyer FLI
David Finch FLI
Katharine Schofield FLI
Ruth Holmes FLI
Sarah Gibson FLI
Helen Woolley FLI
David Watkiss FLI
Steve Morgan FLI
Sarah Jones Morris FLI
Our strategy commits to broadening the profession, making the LI a home for all who practice in the landscape sector. We are actively seeking accomplished industry leaders and experts who have significant experience to be encouraged to join our profession. Their diverse skills span urban design, garden design, horticulture, landscape construction, education, landscape science, parks management, landscape policy and regulation, as well as our largest fields of practice: landscape architecture and landscape planning.
Applicants are considered across all our grades of membership. Soon, we'll also need to explore for experienced landscape technicians – our new grade of membership – to help introduce our new apprenticeship-linked Pathway to Technician (P2T).
I was delighted to to welcome and congratulate our new latest invited route members as Fellows:
Brian Evans FLI
Jo Thompson FLI
Marion Boswell FLI
Mark Gregory FLI
Andrew Wilson FLI
Nigel Dunnett FLI
Juliet Sargeant FLI
Andrew Halksworth FLI
Nick James FLI
Cecil Konijnendijk AFLI
Interested in joining or nominating a peer for membership? If you wish to join the LI  you are an existing LI member wanting to apply for Fellowship or wish to nominate an accomplished peer (with 10+ years experience) for our invited route, please get in touch with membership@landscapeinstiute.org.
Final update to members
My final President's update was no different to any other – I shared the latest news from the Landscape Institute, and reassured members that as Immediate Past President, I'll remain on the Board of Trustees for another 12 months to support Jane, Dan and the team.
My final update included:
LI Campus: The FREE subscription to this great new service is now extended until the end of September 2020 for all LI members.
Landscape Apprenticeships: We've received the green light for new level 3 apprenticeships that will create a new group of future Technician Members of the Landscape Institute. In England, school leavers and others will now have a completely new route to the profession. Later in the year we hope to gain final approvals for Level 7 Degree-level Apprenticeships, which will be developed by universities.
International Year of Plant Health 2020: The LI is supporting #IYPH to help raise global awareness of how protecting plant health can help end hunger, reduce poverty, protect the environment, and boost economic development.
High Streets Task Force: The LI has approved more than 40 LI members to join the government's High Streets Task Force. Pending approval by the central HSTF team, these members will sit on an expert register or work as mentors and facilitators to local authorities and place managers in England. A big focus for the Task Force will be restarting high streets after the COVID-19 Pandemic.
LI Connect: Coming in the autumn, LI Connect will be an online discussion forum for our working groups, branches, Pathway to Chartership study groups, and any other member or non-member group.
LI Diversity and Inclusion Working Group: Established in 2017, this group has done some terrific work – but still has much to do under Jane's Presidency. The new Apprenticeship route into the profession will be among many initiatives that aim to encourage a more diverse and inclusive generation of young people to join the landscape profession.
Adam's top five presidential moments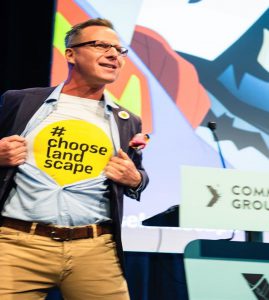 I certainly took my Dad's advice and seized every opportunity that came along during my Presidency. After several dress rehearsals it became apparent that it was going to be almost impossible to do a traditional PowerPoint update of my two years in the allocated 20 minutes. So with the help of Prima Vista Films and a wealth of archive footage and photos, we set about making a presidential highlights film.
The result is this film – a lovely moment in time captured in my local community garden in Kingston-upon-Thames.
The film includes many moments captured during my Presidency, including my top five highlights:
Being President has been a once-in-a-lifetime experience. My Dad once said, 'It's not what you say, it's not what you do, it's how you make people feel.' I do hope I've inspired those I've worked with to keep talking and collaborating, sharing best practice, and inspiring the next generation to choose a career in landscape.
It is such a shame that my final few months as President have been restricted to Zoom and WebEx. As I said at the end of the webinar, I'd like to thank all those that have supported me these past two years – these include my partner Sarah, my Mum Susan, my business partner Andrée, Dan and the LI team, and all the Board and LI members. Finally, I'd like to wish Jane Findlay the very best of luck as our new President.
This is not a goodbye, this is a see you soon!
Adam White FLI PPLI
Immediate Past President of the Landscape Institute