Until recently, the world has treated climate change and the biodiversity collapse as separate issues. But the two topics are deeply intertwined, and also inextricably tied to human wellbeing. The LI's 2021 Jellicoe lecture explores the biodiversity emergency and how the landscape sector can respond to redressing the balance.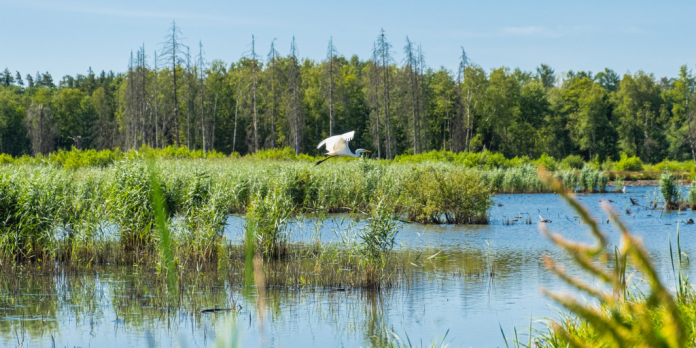 In December 2020, 50 of the world's leading biodiversity and climate experts participated in a four-day virtual workshop to examine the synergies and trade-offs between biodiversity protection and climate change mitigation and adaptation.
The workshop was the first ever collaboration between the Intergovernmental Science-Policy Platform on Biodiversity and Ecosystem Services (IPBES) and the Intergovernmental Panel on Climate Change (IPCC). And in a workshop report launched on 10 June 2021, co-sponsored by the two intergovernmental bodies, authors stressed that the world needs to treat global warming and biodiversity loss as two parts of the same problem.
'These two topics are more deeply intertwined than originally thought,' said Hans-Otto Pörtner, co-chairman of the committee that produced the report. 'They are also inextricably tied to human wellbeing. But global policies usually target one or the other, leading to unintended consequences.'
For the last couple of decades, climate change has largely overshadowed biodiversity loss, perhaps because its threat seemed more dire. But the balance may be shifting. Scientists warn that declining biodiversity can lead to ecosystem collapse, threatening humanity's food and water supply.
Jellicoe 2021: Exploring the landscape solution to biodiversity loss
This year's Landscape Institute Jellicoe lecture is devoted to discussing the biodiversity emergency and how the landscape sector can respond. With the UN's COP15 Biodiversity Conference in Kunming, China beginning next week, now is the perfect time to discuss how we can take action; and in advance of the COP26 climate summit in Glasgow in November, these discussions will be an important starting point to our holistic response to the twin climate and biodiversity crises.
How the landscape profession can lead the built and natural environment sector?
What does biodiversity net gain (BNG) mean for landscape design, construction and management?
What practical steps can practitioners take to deliver biodiverse and multifunctional projects?
Speakers will include Balfour Beatty's Biodiversity Technical Specialist Julia Baker; GMCA's
Natural Capital Coordinator Krista Patrick; Wildflower Turf Managing Director James Heweston-Brown; and landscape architect Lynda Harris.
The free online lecture takes place on Tuesday 2 November at 2.00pm. Register here.