Streetlife presents the TWIN concept: an ambitious mission to provide all hardwood options within our street furniture collection with an alternative, sustainable twin. FSC© certified hardwood has always been a green choice. However, by adding four new non-wood alternatives, our material range now consists of five shades of 'green'.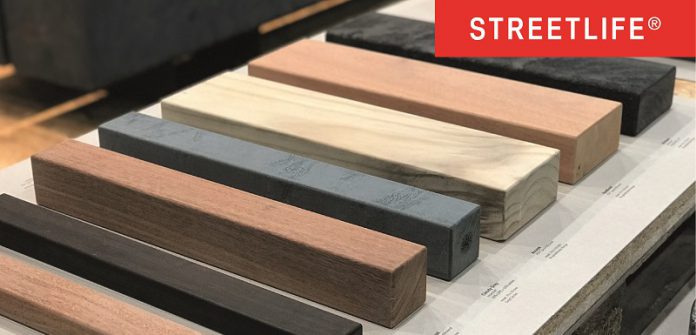 This article is a sponsored post.
---
A large part of the Streetlife Collection comprises products with hardwood seats or beams. We have added four fully-fledged alternative materials to our range, so it is now possible to choose between FSC hardwood or a biobased or recycled 'twin material' for each standard beam size in the collection.  
Lava Grey, Cloudy Grey and All Black are plastic recyclates, while Bamboo Brown is a CO2-neutral biobased product. Each has its own distinct character which originates from the source materials and production methods.  
Lava Grey, for example, owes its name to the syrupy consistency of the recyclate as it flows into the mould during the casting process. The surface texture is reminiscent of a solidified lava stream. 
Cloudy Grey consists of 50% textile fibres and 50% recycled LDPE plastic. This material therefore draws from two problematic, fast-growing waste streams. The textile fibres afford the material a tactile and lively appearance with a vibrant marbled effect. The grey colour of both Cloudy Grey and Lava Grey results from combining various waste materials. As Streetlife does not add any dye, the material retains its natural colour. 
All Black is a material that Streetlife has been working with for several years now. Dozens of projects have already been delivered in All Black. Although similar material can be seen in many public spaces and has been around for some time, All Black is aesthetically appealing and of a higher quality. The colour remains black throughout due to UV stabilisation, but under extreme circumstances it may slightly fade to anthracite after eight to ten years. 
Bamboo Brown is a CO2-neutral biobased material consisting of 90% bamboo fibres, harvested from FSC managed forests, and 10% glue. The long bamboo strips are compressed under high temperature and pressure, which, in combination with the naturally present sugar, gives the material a deep brown hue. The visible fibres afford the smooth surface variations in colour and a woody texture. Bamboo Brown is relatively heavy due to its high density. Over time, it takes on greyer tones when exposed to outside conditions. 
Today, as we need to drastically reform our impact on the environment, sustainability must be a guiding and integral part of the production process. Thanks to their timeless design and high quality, both aesthetically and technically, our products last longer. Moreover, smart detailing and material choices limit the required maintenance while further extending their lifespan. Components can be easily replaced in the event of damage and repurposed or recycled at the end of their lifetime. This sustainable vision is at the heart of Streetlife's design philosophy. 
"As designers, we are in a position to create solutions that contribute to healthier and more sustainable green public spaces. Our approach, which includes the TWIN concept, is aimed at combining aesthetics and sustainability in fair and future-proof products." (Streetlife)