Factory Furniture is launching an exciting new piece – The 'Fin' Pod. Designed to complement any outdoor space placing the emphasis squarely on the view, with a design that integrates a framed focal point.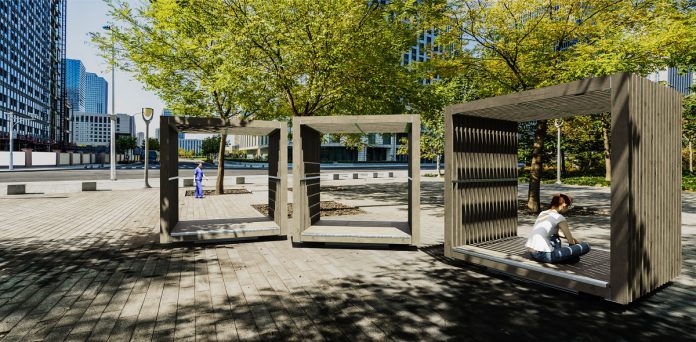 This article is a sponsored post.
---
The Fin explores a broader concept between urban furniture, architecture, and landscaping with an element that can be rotated manually 360 degrees providing customisable levels of privacy and shade for a personalised experience. 
Suitable for public or private use, the Fin can be enjoyed as a single user or as a shared space. It becomes a welcome addition to parks, pools and spas, with personalisation options to suit almost any scheme as it can be fitted with seating, loungers, or even converted to outdoor meeting cube. The open louvred construction also allows free airflow and removes the need for roof cleaning, making it a maintenance free investment. 
Optional Photo Voltaic panels with charge points and lighting make it an attractive amenity in any public space.  
With a 20-year life span, the Fin is a long-term solution that boasts excellent sustainability credentials. Plastic-free and 100% recyclable, each unit is made in the UK from timber sourced from FSC certified forests and covered by a valid Chain of Custody certificate.  
A full range of product images are available to download here. 
About Factory Furniture 
At Factory Furniture, we design and make site furnishings that combine quality and durability with exceptional attention to detail. With over 30 years' industry experience, we possess exceptional awareness of the demands of public spaces and the needs of the people who use them.  
Working closely with architects and place designers, we adopt a pragmatic approach, combined with a rich understanding of materials and processes, to produce consistently high-quality furniture. Our products are hand-made in house by our experienced design and manufacturing team who select only the best materials for each product.