Rhys Jones of the Humanitarian Landscape Collective explains how landscape architects are supporting food charities during the COVID-19 crisis with a simple campaign.
It's not a question any of us would expect in a job interview, nor a topic one might expect to be covered in a university curriculum. But as the pandemic-induced global shutdown is here then so is the question, and, as quickly as COVID-19 has swept the globe, an answer is needed. The immediacy of the pandemic doesn't square with our natural, long-term way of thinking and whilst we can plan our open spaces to accommodate social distancing and make the case for equitable access to green space, the emergency is here and now, and we must find an answer at this very instance.
The disease itself is respiratory in nature and tackling it is the expertise of a medical professional. But what about its impact and the measures that have been in place to fight it? What about the social distancing, the isolation of the already-isolated elderly, the job losses, the single daily excursions, and the food bank shortages? Now we're in the realm of health and wellbeing, land use, and access to open space. Now we're on more familiar ground.
We took to looking at food bank shortages, by 'we' I mean the Humanitarian Landscape Collective and Landscape for Future, and by 'food bank shortages' I mean how we can support the fresh food supply of organisations who are working to get it to vulnerable people.
To set the scene, it's estimated that 860,000 people are at an elevated risk to COVID-19 and have low or very-low food security, with social-distancing measures and job losses making it harder for them to access food. The organisations helping those people are food banks and redistribution charities (such as The Felix Project and City Harvest) who take surplus food and give it to those in need, both have seen a simultaneous increase in demand and a reduction in supply. We're supporting these organisations with a two-stage campaign which tackles the need in the short and long-term.
Stage 1
The first stage is the Food Share Initiative and its aim is to raise donations for food banks as part of Clap for Carers using a 4-step process:
Coordinate with your neighbours via Whatsapp/Facebook and nominate a neighbour to be a collector
On Thursday night at 8 o'clock, leave one item of food on your doorstep when clapping for carers
Afterwards, the nominated neighbour then comes along and collects the food items
They then deliver the food items to your local charity
We have already had some very successful collections from all over the country and we'll be promoting this initiative as much as we can. If you'd like to run a collection in your area, we've put together a leaflet and set up a Facebook page for further guidance.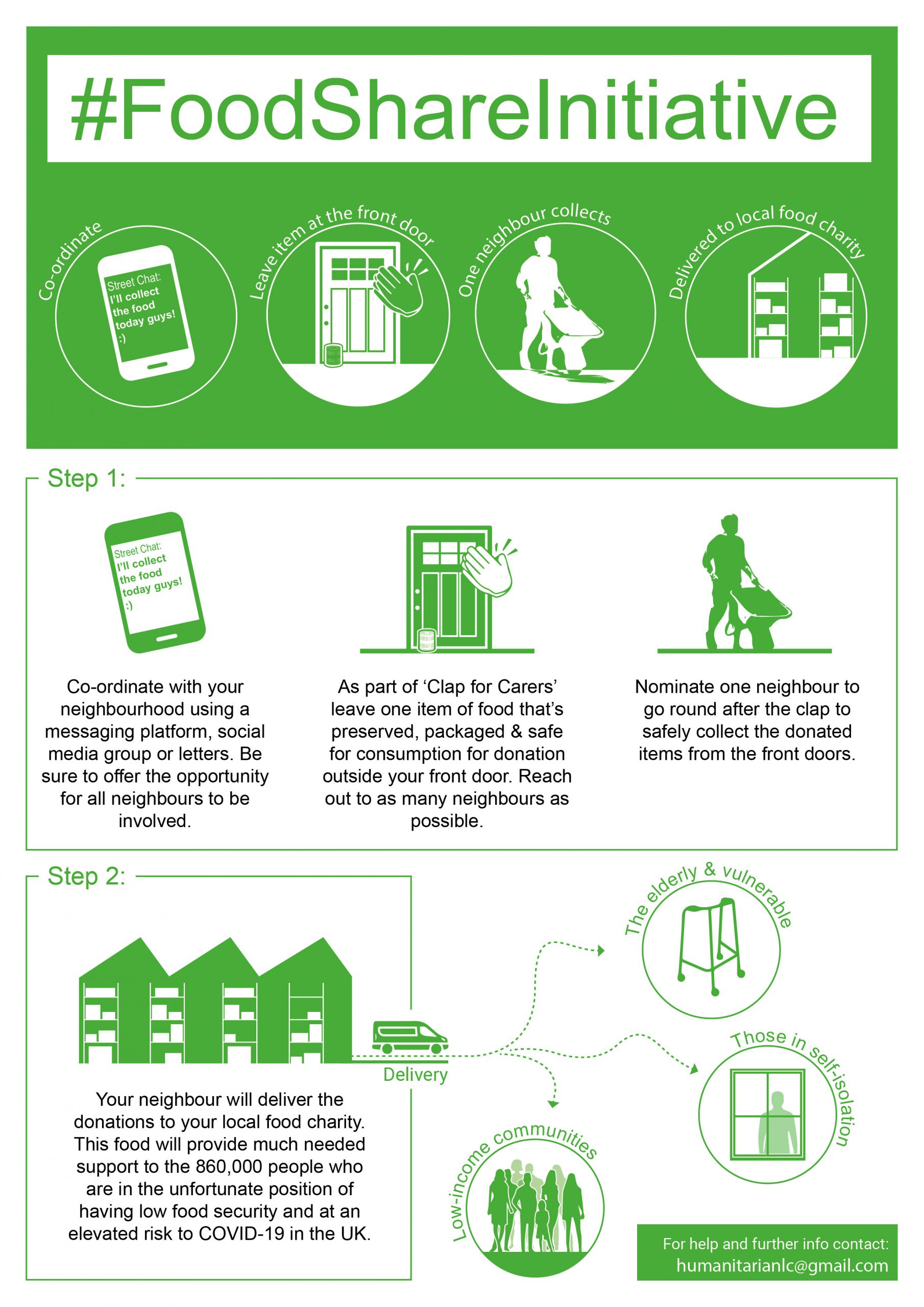 Stage 2
The second stage is focussed on supporting the food redistribution charities by connecting them with food growers who could donate surplus food. Although the current pandemic may be the catalyst for this, it boosts our 'peacetime' food security by adding to these charities' diverse portfolio of food sources with locally-grown produce.
This has had its challenges as we're currently in the depths of what's known as The Hungry Gap: a shortage in produce between the winter's harvest and the new season's plantings being ready in June. Despite this, we're currently in conversation with Incredible Edible groups and Sustain to work up models for how we can connect the growers and charities and encourage people to grow their own food.
Whilst our campaign may be focussed on the current problems COVID-19 has created, it also draws attention to the existing state of the UK food system. It's a model that relies heavily on a thriving agricultural sector, supermarket shopping and imports (which makes up 48% of our food supply) which arrive on a just-in-time basis. It's a resilient model that's served our lifestyles and economy well but is still open to shocks. What if you can't go to the supermarket? What if borders are shut down to contain the spread of a disease? What if the current agricultural system breaks down and isn't able to keep up with demand? We're experiencing a huge shock to the system right now and it isn't working for all.
For some these are very real worries. Being able to get to a supermarket may be taken for granted, but according to a Food Foundation study taken 3 weeks into lockdown of the 8.1 million people facing food insecurity in the UK 25% were unable to leave their homes and had no other way to get the food they needed. As for production, due to travel restrictions the UK looked to be facing a shortage of up to 80,000 seasonal workers, leading to the call of a Land Army of volunteers from within the UK. It looks as thought the demand won't be met and, given that 22,000 of our regular seasonal workers are from the EU, there are serious doubts about whether it will be met again. To add further gloom to the horizon, climate change and habitat loss is also increasing our risks of pandemics in the future.
Considering all this, the idea that people might go hungry again in a post-COVID world isn't so hypothetical and we, as part of a global effort, must start building up our food security now.
This brings us back to our question and subsequent answer, what can a landscape architect do in the event of a pandemic-induced global shutdown? It's not our natural environment to work in but, in my view, there are 2 key attributes that we can draw-on:
Altruism: we aim to design, plan and manage open spaces for the benefit of those who we'll probably never meet, both human and ecological, and hence we spend our days considering the needs of strangers. It's this exact thinking that has underpinned our campaign, with the strangers in question being those facing food insecurity.
Holistic thinking: In other words, joining the dots and considering how a system works. In our day jobs this could be the system of a public square and joining the dots of those who have a stake in it. In the case of our campaign it's been about not just looking at the vulnerable person in need of food; but looking at the system that gets it to them and identifying the gaps within it which we could help fill.
I'm sure of each of us within this profession can identify with these attributes, and whilst our campaign may not be textbook landscape architecture, its inception has been on account of us being landscape architects.
If you would like to be involved in this campaign or find out any more information then please contact Rhys at rhysjones.la@gmail.com