Isabel Swift, Landscape Architecture MA student at Leeds Beckett University and joint winner of the LI Student Travel Award 2017, shares her thoughts on two therapeutic gardens she visited in Alnarp and Stockholm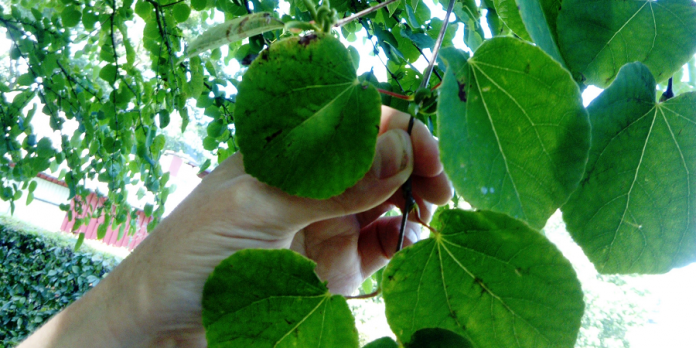 Having looked in detail at designing public space for health and wellbeing in part one of this travel journal, I will now look at the two therapeutic gardens I visited before drawing some final conclusions.
Why the interest in therapeutic gardens?
Social and therapeutic horticulture (STH) is a fusion between community gardening and occupational therapy (OT). I was trained in this discipline by the OT department of Coventry University in partnership with Thrive, the national charity for STH. Having worked first as a community garden manager and then a social and therapeutic horticulture practitioner in other gardens, I was increasingly struck by the many small barriers to participation in activities I encountered when working with people with additional support needs in gardens that had been designed for community use.
I remembered that a Danish colleague introduced me to the work of Patrik Grahn of the Department of Work Science, Business Economics and Environmental Psychology and the Alnarp Rehabilitation Garden at Sweden's University of Agricultural Sciences in Uppsala. Thrive's journal 'Growth Point' introduced me to the Garden of the Senses in Stockholm, so with the help of the LI's student travel bursary I visited these two sites to see first-hand the key to designing spaces for STH.
What seemed different in Sweden to the UK? There are therapeutic gardens in the UK; however, they seem to be largely developed by the charity and voluntary sector. I was curious to see how a garden hosted by a research establishment and one hosted by the local authority were designed, and how they functioned.
Sinnenas Trädgård (the Garden of the Senses)
The first garden I visited was the Garden of the Senses. Located between two care homes for older people next to Vasaparken in Stockholm, the garden is open to the public. Designed in 1990 by Yvonne Westerberg, the garden caters for the passive use of residents of the two adjacent care homes.
I was lucky enough to meet with Head Gardener and Therapeutic Horticulturalist Christer Fällman. Employed by the local authority, he works therapeutically with a group of adults with learning disabilities while continuing to develop the garden for maximum therapeutic impact.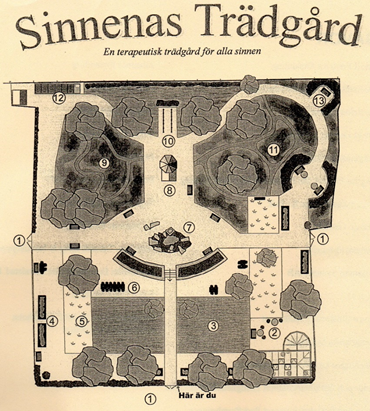 Entrance and rose archway
Orangery and 'coffee place'
Lawn
Raised beds in larch
Border
Gravel paths
Water feature with well
Gazebo from 1784
Perennials with woodland path
Parallel bars for walking rehab
Grove with forest path
Compost
Arbour – 'a place to think'
Alnarp Rehabilitation Garden
The second garden I visited was just outside of Malmö in Alnarp, at the Swedish Agricultural University's department of Occupational Studies, Economy and Environmental Psychology. The garden is the product of evidence-based design and was created and opened in 2002 as a 'living lab' to develop new methods to treat long-term illnesses that effect large numbers of people in the modern world. Since then, its work has focused on long-term mental illness, strokes and, currently, refugees. It has been host to partnership working between professionals from the following specialisms within the university:
occupational therapy
medicine
physiotherapy
psychology
The partnership has also included the local authority, Department of Public Health and the local equivalent of the Job Centre in planning and with funding arrangements. Research takes various forms, from randomised, controlled trials to longitudinal studies, and provide pilots that have been rolled out in other areas along with data to inform the medical profession. I was kindly met by head gardener Anna Sundberg and Occupational Therapist Vanessa Mårtensson for a tour of the space and introduction to its main features. The space is not open to the public and is closed to all but staff and people taking part in therapeutic programs each weekday morning when sessions are running.
My top six features observed in two Swedish therapy gardens
1. A chance to 'be away' and immersed in green
A secluded spot can be created in almost every setting by using the right combination of planting. Being surrounded by green can allow your mind to relax and de-stress, and make the pressures of modern life feel a million miles away. These areas of the gardens offer a chance to reduce our 'arousal levels' which are thought to be overloaded by the constant bombardment of sensory information in the modern world 1. Both of the gardens provided multiple opportunities to stop and soak up the atmosphere even in a relatively small amount of space.
2. A focal point for orientation
When working with people with support needs it is important that they feel safe in the garden. This basic human need is essential for any kind of learning or development to take place. Part of the therapeutic benefit is the ability to spend time alone; to feel 'away, but never lost. Older people suffering from dementia are easily disorientated, and so all paths in the Garden of the Senses eventually lead back to the gazebo in the centre. From here, views of the doors to both adjacent care homes are also visible and easily reached.
At Alnarp, the current project works with refugees, many of whom are suffering from post-traumatic stress disorder (PTSD). For the first few weeks of the program they stay near to the group leaders, but eventually, as they have the confidence to work further away, the 'house' is tall enough to be visible as an orientation point from the whole of the site, and all major paths lead to it.
3. Striking plants and features to draw people's full attention
The New Economic Foundation's public health guidelines, Five Ways to Wellbeing, state 'Take Notice' as one of the five. By noticing interesting things around you and devoting your full attention to them, even if just for a moment, stress levels are shown to reduce and mood to lift.
Positive Psychology theory states that a positive emotion elicits a positive behavioural response: interest, for instance, elicits exploration and curiosity. The 'broaden and build' theory goes on to explain that fostering positive emotions can lead people to seek out more (and a garden like this can offer countless opportunities for this kind of brain exercise) and slowly make changes in the brain that manifest as a positive outlook on life.
Attention Restoration Theory, proposed by Rachel and Steven Kaplan in the 1970s, describes this as 'effortless attention' which, in sufficient quantity and regularity, has the effect of restoring our ability to concentrate on involuntary tasks such as work 2.
This has also been described as informal mindfulness 3.
4. Carefully selected surfaces and furniture
When thinking about gardens, it's always a trade-off between cost of materials, maintenance implications, and environmental considerations such as water permeability. Below are examples from each of the gardens.
Alnarp, the larger of the two gardens, has opted for granite gravel for most paths (approximately 3mm and smaller) on a hardcore base. Regular raking of the top 30mm is included as a maintenance task for the participants who need gross motor exercise. It's usable by wheelchairs but can be messy in winter when wet.
The Garden of the Senses has opted for mainly block paving, as mobility issues are generally lower for their main user groups. Both gardens have main paths significantly wider than 1.2m. A variety of seating options were prevalent in both sites and a range of options to suit a range of ability and mobility levels seem to suit a range of different people. Specialist mobility rehabilitation equipment has been installed in the Garden of the Senses. The site is open to all with parking nearby and full wheelchair access, so people who need to practice with a walking frame can visit and do so in a beautiful setting.
5. Opportunity to interact with the plants regardless of ability level
Both of these sites have coordinated programs of horticultural activity so people can actively benefit from the gardens and the plants. How this works in practice can vary greatly, and the variety on offer is down to the skill of both the designer and the practitioner leading the sessions. Mixing growing medium or sowing seeds can be excellent fine motor exercise, even if people have limited flexibility in their fingers. The theory of biophilia describes the urge that humans have to interact with other living organisms. In its simplest form this encompasses the fact that planting a seed gives new hope for life, and a life to care for in the future 4.
6. Planning to allow sessions to continue all year round and facilitate a connection to the season
Including species that have uses for seasonal craft activities within a visual planting plan adds another layer of knowledge to the design process and another set of activities to allow programs to continue all year round. In Alnarp, plants are harvested to make herbal tea, rods for basketry and crops for preserving, among other crops. It's tempting to stay indoors during autumn and winter, particularly if your mood is low; however, the passive benefits of being in nature and the active benefits of taking part in group work are still available in any season. Careful planning of the species in the garden and the supporting infrastructure can result in getting people outdoors for activities in the winter, even in Sweden!
Some concluding thoughts
With both of these gardens, as with ones I have seen in the UK, complex partnerships are required to fund their establishment and ongoing programs of activity. These two Swedish examples are long standing and differently organised: one based on research, closed to the public and carefully planned and structured; the other funded and maintained by the local authority for ad-hoc use by two care home facilities with maintenance programs of activities carried out by adults with learning disabilities, but also usable by the public.
Having looked at these gardens and public realm space in Sweden I've come to the conclusion that Swedish culture seems to more readily accept and understand the inherent health benefits of nature and green infrastructure, both for public health and as a useful intervention when people need some kind of rehabilitation. Its establishment and maintenance seems to have a higher strategic priority and funding levels seem to reflect this. Perhaps this is to do with a closer association in Sweden between society and a land-based way of life until recent history, while the UK's relationship with the countryside was strongly interrupted by the industrial revolution?
The UK is increasingly interested in the reported health benefits that this type of intervention in this type of facility can offer. But currently, medical professions and local authorities cite the lack of clinical controlled trials and meta evaluation of research as barriers to funding. However, these gaps are closing. Exeter Medical school is currently undertaking work to review and identify research needs in the area of attention restoration and related theories, and places like Alnarp are providing randomised clinical controlled trails to prove the effect of natural interventions versus pharmaceutical ones for a range of medical conditions.
In the UK, gardens like this do exist and have done for years – but mainly in the voluntary and charity sector. I think there are opportunities for the landscape departments of universities to form these complex partnerships with colleagues in health and social care and education and contribute to the evidence base. I can see a future where therapeutic gardens exist within all localities run in partnerships with local authorities, the NHS, and voluntary sector providers. However, these spaces must be rigorously and carefully designed and properly resourced to ensure full therapeutic use and benefit, and landscape professionals have a place in this process.
My final reflection is that we seem to be travelling in a circle. While in Sweden I visited the gardens of Carl von Linne, also known as Linneus, the father of botany. I wanted to see his gardens as a bit of a botanical pilgrimage, but was surprised to hear of his professorship in the 1700s at Uppsala university in both botany and medicine. Back then, plants and human health were seen as inherently linked. Perhaps the economics of the pharmaceutical industry have led health research too strongly, and thus we are having to rediscover and prove the benefits of plants and gardens once again. Landscape professionals could play a leading role in this, and in Sweden, they already do.
Acknowledgements
I thank the Landscape Institute for the opportunity to make this trip and Poppy Smith for her support during and after the application process. I'd also like to thank Krister Fällman, Head Gardener at Garden of the Senses, for an interesting and enjoyable visit; and Project Coordinator Sara Kyrö Wissler, Occupational Therapist Vanessa Mårtensson, and Head Gardener Anna Sundberg at the Rehabilitation Garden, Sveriges Lantbruksuniversitet, Alnarp, Uppsala. Finally, a mention of my son Oren Knighton Swift, who appeared in some of the pictures.
---
Simpson, S and Straus, E. 1998. Horticulture as therapy, Principles and practice, p 22. CRC Press.
Kaplan, R and Kaplan, S. 1989. The Experience of Nature: A Psychological Perspective. Cambridge University Press.
Hassan, G. 2013. Mindfulness: Be mindful. Live in the moment. Capstone.
Winterbottom, D and Wagenfeld, A. 2015. Therapeutic Gardens: Design for healing spaces,  p 31. Timber Press.