Applications for the LI Student Travel Award 2020 open in February. Here, our 2019 International Award-winner, Lisa Peachey, documents her creative residency at the Bloedel Reserve to study the healing impact of landscape on mental health and grief
With support from the LI Student Travel Award, I was lucky enough to be able to take up a creative residency at the Bloedel Reserve, in Puget Sound, Washington State.
It is an 150 acre nature reserve that was seen by its founder, Prentice Bloedel, as an experiment in environmental psychology. The design is considered as a circulation through seven types of landscape including wilderness areas and formal gardens, and the reserve runs a programme called 'Strolls for Wellbeing' which is particularly aimed at mental/emotional restoration.
At the thesis stage of my masters, I wanted to consider if landscape design could affect mental health in times of grief – and if so if there were particular design tools that could be implemented. Although there are lessons to be learned from them, I did not want to think of the design of therapeutic gardens or formal memorials/cemeteries – but to consider the design of salutogenic spaces within the public realm – dealing with stress, loss, and particularly grief; things that happen every day to everyone, in a more commonplace way.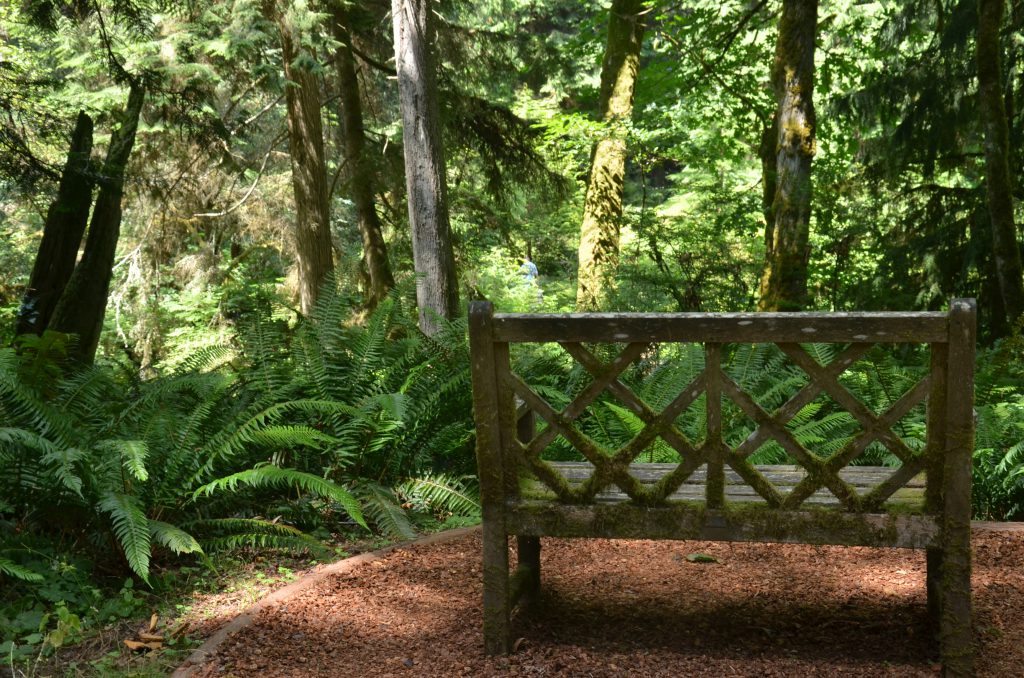 As more pressure is put upon our public realm to deliver climate change mitigation, biodiversity, space for play, space for exercise, community activities – I want to include mental health into this equation.
Is it possible to include provision for supporting mental health through public realm design? Is it possible to integrate this into the quotidian 'green/blue spaces' we design, or is it, by way of its nature, something that needs to be provided as an escape from the everyday? As we face an aging population, in the way that new developments have to provide so many metres squared of play for children, should we be providing spaces for reflection and contemplation – for grief?
"Urban green spaces, as part of a wider environmental context, have the potential to help address problems 'upstream', in a preventative way – considered a more efficient approach than simply dealing with the 'downstream' consequences of ill health" (WHO Regional Office for Europe, 2016., p. 1)
The month-long residency in a wonderful live/work space within the Reserve gave me the time to consider academic and philosophical research and also to create a case study through which to think about design for mental health. My approach was broadly moderate auto-ethnography, acknowledging first and foremost my own position and its affect on my response, which was of course highly coloured not only by my cultural upbringing etc, but also by my previous engagement with literature on the design of spaces for contemplation.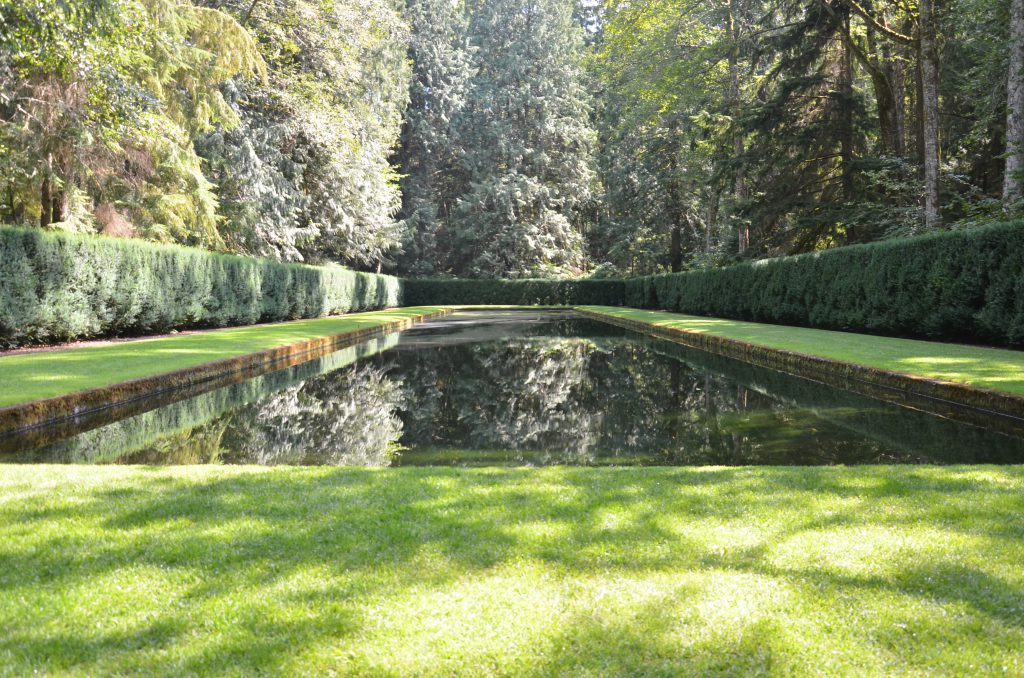 My own journey along the walk within the reserve and subsequent time spent considering the elements which had affected me emotionally identified twelve factors within the design which I believed to be significant:
A sense of destination – changing; hidden and revealed, but something to aim for

A setting out of the relationship between man and nature, and then a chance to leave that architecture behind

A sense of immersion but within an area of safety

Spaces of actual reflection – bodies of water

Being in the company of a non-demanding sentient being

Interspersements of recognisable human interactions – the geometric

Views into/at nature from outside of it

A sense of detail within the whole

Level changes – ascension

Symbolism

Thresholds – coming in and out of space and light

A spiralling return reminiscent of Bergson
What also became evident was the importance of the role of the receiver – that perception is everything – and the many intangible elements which affect our ability to 'feel' a space in the way it is intended.
I noted that all the photographs I had seen of the Reflection Pond, lovingly designed by Richard Haag, had been devoid of people, allowing one in theory to be immersed alone in one's thoughts. In reality, a space this large, this famous, and this special, is rarely empty.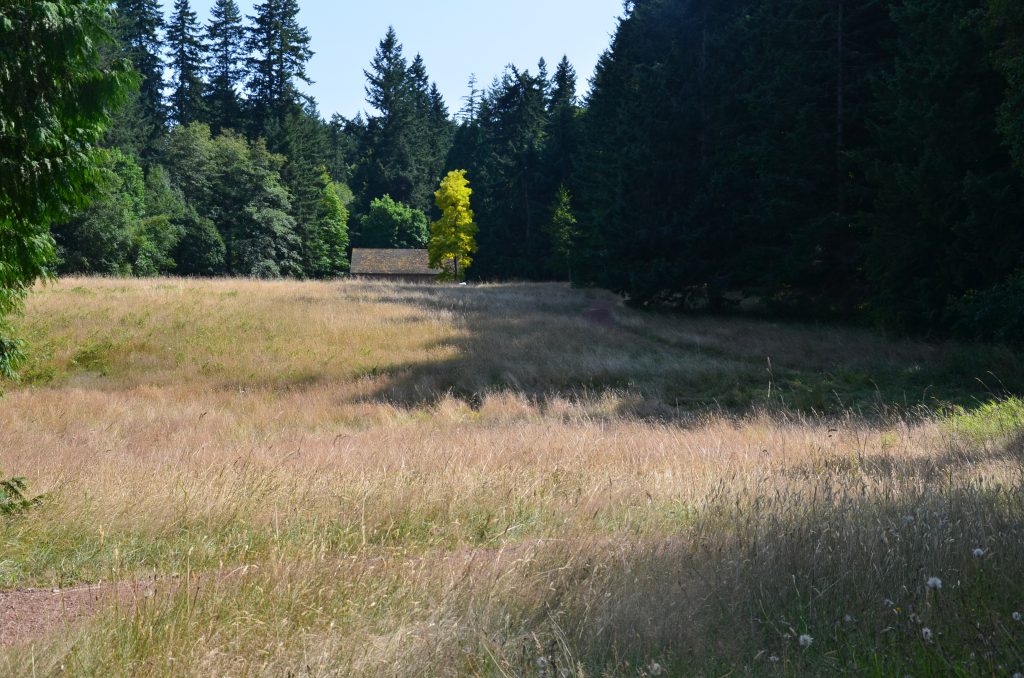 I was privileged to be able to visit the space before the Reserve was open to the public, and yet the place I returned to most often was a singular bench on a promontory leading out onto the lake. Quiet, off the beaten track but close enough that I was not isolated, I was almost guaranteed to be left alone.
In one piece of academic research (Stigsdotter et al, 2017a, p. 13) it was noted that in restoration organic shapes were preferred to geometric ones; the formality of the Reflection Pool, although both beautiful and serene, perhaps, to me, felt a little too austere for feeling.
Looking at available academic research, I noted that the word while the word 'nature' is used predominantly to describe plants, it is often irrespective of whether they are:
indigenous or imported, and at what time
in a street or forest
including water of any type
including animals – whether 'wildlife' or petting animals
The setting of the experience of nature in the research also differs between:
being in nature
watching videos / images of landscapes (without other senses)
postal questionnaires of perceived responses to theoretical landscapes
Snaith and Peters (Snaith, B and Peters, A, 2018) give a convincing overview of how the word 'nature' has be generalised, misused or misinterpreted – to underpin designs for 'wild' meadow scenes which reiterate a Western ideal of 'nature' as wilderness for a prevalent population.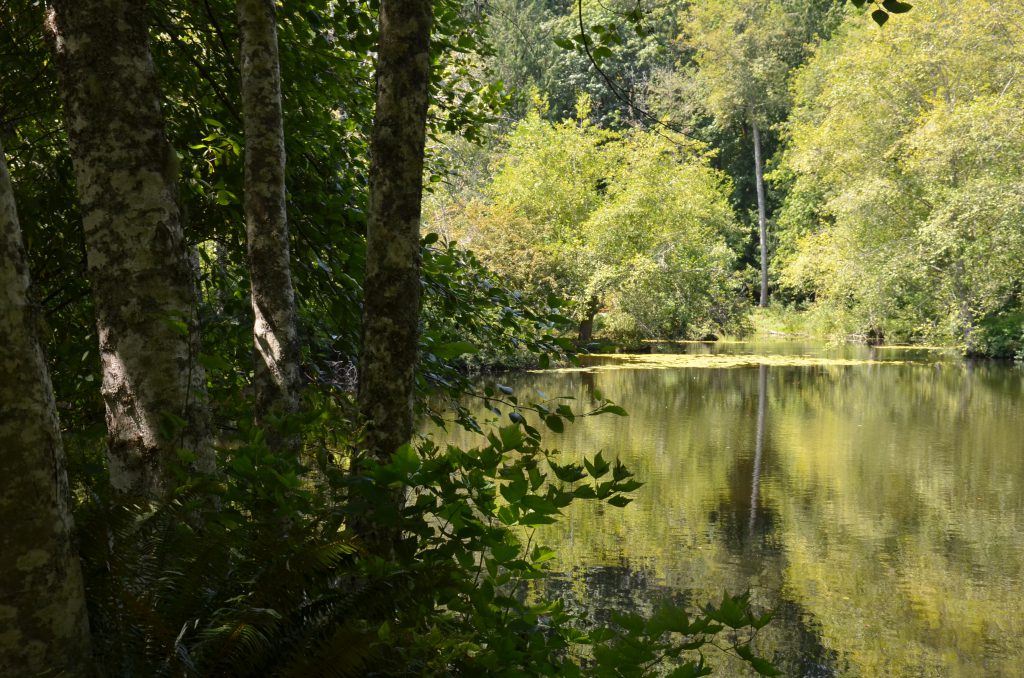 However, the research at the University of Copenhagen by Stigsdotter, Ulrich et al into the specifics of design for restoration through their projects – Octavia and Nacadia forests – provided interesting research with which to compare my own experience. The Octavia forest is a 'health forest' and salutogenic space: "aiming to promote good health and prevent ill health" (Stigsdotter, December 2015, p. 88).
They have designed spaces based on 8 PSDs –  Perceived Sensory Dimensions seen in the environment:
Prospect, Rich in Species, Serene, Culture, Space, Nature, and Refuge.
They found that the PSDs of Refuge, Nature, Rich in Species and Serene were most favoured for restoration.
In later studies, they write that
"An environment which includes diverse vegetation and balances enclosed dense growth with more open views is regarded as being optimal for restoration. The dense growth should have the appearance of a den and offer experiences of privacy."(Stigsdotter et al, 2017a, p. 1)
It is stated on several occasions that what a healthy individual might interpret from a space is entirely different to that of someone mentally weak, stressed or ill, and that as treatment progresses an individual's needs and desires may change – becoming more social for instance. (Stigsdotter, December 2015, p. 90).
Some psychological models likewise suggest that there are phases to grief (Kubler-Ross, 2005) – that it is not one state but many; while other models suggest that there are dual processes of engagement and distraction (Stroebe and Schut, 1999) or that life grows to encompass the grief (Tonkin, 1996).
Additional to this it is also put forward that our ability to respond restoratively to landscape is dependent on our cultural heritage, social perception, and imagination (Cosgrove, 1998) with a particular predisposition for the landscapes of our childhood  (Grahn et al, 2012).
It was found that people who had grown up in open landscapes such as seascapes felt happiest in open landscapes, described as having a vista or 'prospect'.  Those who had grown up in denser landscapes sought traditional notions of refuge with a higher variation of species – forests for example. These are all seen as variants of the original savannah landscape which is supposedly an innate biophilic landscape.
However in terms of design therefore it would seem that being able to provide a variety of spaces is most likely to enable positive responses for diverse populations of modern cities. This lead me to consider the notion of the first urban settlement according to Walpole which encompasses both life and death:
"The anthropologist Robert Fortune once described the ideal village of Dobu [as being] a circle of huts facing inward to a central, often elevated mound, which is the village graveyard. … This form of spatial geography many believe to be settlement in its truest sense, where the dead share the same territory and identity as the living. Such spatial arrangements seem to suggest that death is not the end of the human story, in fact it shapes and defines the story."
(Walpole, 2003, p17)
If ever there were an argument for including contemplative spaces for grief within our cities, it is this. If we are ingrained to respond to our innate and cultural backgrounds, why are we not including our death as a part of our everyday landscapes?
There is also a question as to whether the benefit one gets from nature is heightened by active or passive consumption. Sidenus concludes that at present:
"It is not possible to establish whether it was the environment, the activities and/or the combination of the two that led to these significant improvements to the participants wellbeing." (Sidenius, et al, 2017, p. 24)
Certainly, having had the chance to discuss findings at Bloedel with the then manager of the Strolls for Wellbeing program, Laura Counsel, it would seem that their research suggests that walking is an important part of the experience – "as it provided a sense of being productive that fits with a contemporary societal framework."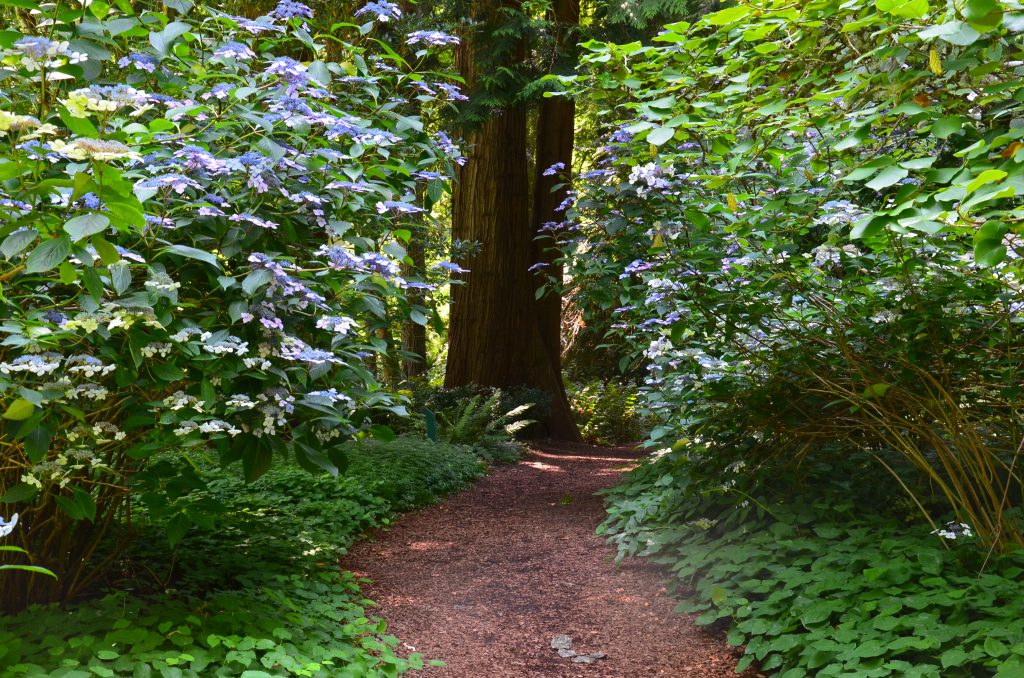 She went on to provide the following pointers on the programme:
No particular place on the Reserve was the most popular or rated for restoration. Responses were different, and would often change over the twelve walks.
People often commented on the transitions – from dark to light; from formal to informal to symbolic. They saw these as reflecting their own life transitions.
The pace of movement that the Strolls suggests is slow – suggesting a general physical and mental slowing in line with mindfulness approaches. Some walks suggest a movement of only 100m, on a trail that spans 150 acres.
Commitment to the programme is the biggest hurdle to finishing
30-40% of participants are from Bainbridge Island – others travel up to a 30mile radius.
Her feeling was that the largest factor that made the Strolls successful was that it is removed, and safe – in all aspects, from its maintenance, its friendly and vigilant gatekeepers, to the air of comfort that is created in the welcoming sessions, and the book which provides a framework for support.
(L Counsel, 2019, conversation as part of Bloedel Creative Residency, 23rd August.)
An interesting study by Stigsdotter et al (Stigsdotter, et al., 2017b) showed that when a well designed hard public space – which they defined as including historical and architectural value and little or no traffic – was compared with a forest, there were no physiological differences between people's experience. One doesn't have to create a forest to feel that one is in one, as in Alvar Aalto's design. The architecture of cathedrals points us towards this – the man-made can provide restoration also.
However – and this is a fundamental finding – in the same study the forest was perceived as being more restorative. We are reminded that our response is framed by our minds, over and above any other sense. In which case, every landscape must give the opportunity to be perceived in many ways.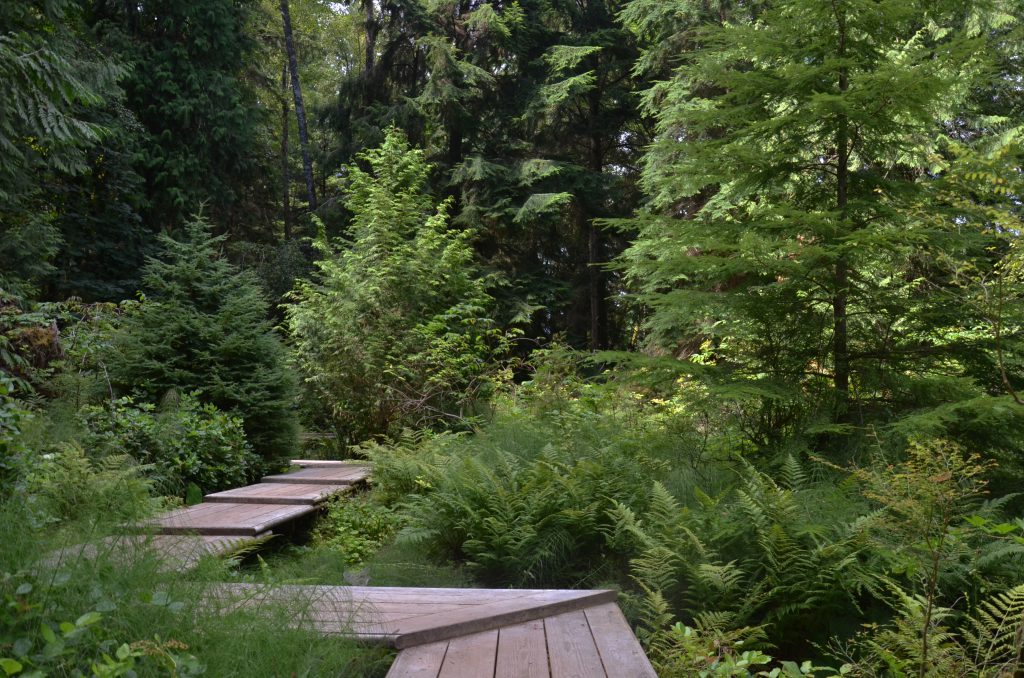 It is quite unusual for large pockets of space to be offered up for redesign in London. However, on reflection from this study, I would wholeheartedly concur with the London National City Park idea, which advocates for a larger holistic view of pocket parks and green spaces. Seeing natural spaces as a network on a local scale, drawn together, could create a perceivable journey – and could provide the variety of spaces and changes which are needed both for mental and physical health sustainability.
Social spaces should be provided, but away from quieter ones – and only on the premise that all restorative places have the feeling of being safe. As this is as much about perception as actuality, signifiers of safety should be provided – which can include a perceivable maintenance program, gates, an active noticeboard for example. Equally, signalling that a space is designed for grief might be key – as the acknowledgment of self-treatment seems to be as important as the space itself.
The brevity of some of the walks at Bloedel (less than 200m), and the ability to design seemingly different spaces back-to-back, veiled only by landform and trees, suggests that indeed small spaces within cities could provide spaces for parts of journeys which acknowledge and invite grief. More research is definitely required, but there is some hope that grief could become accepted and better designed into our everyday lives.
Applications for the LI Student Travel Award 2020 open in February. For more information, email chooselandscape@landscapeinstitute.org.