Aimed at increasing usage and activity, the Plaza intelligently addresses the need to create platforms for temporary activities, says LDA Design's Cannon Ivers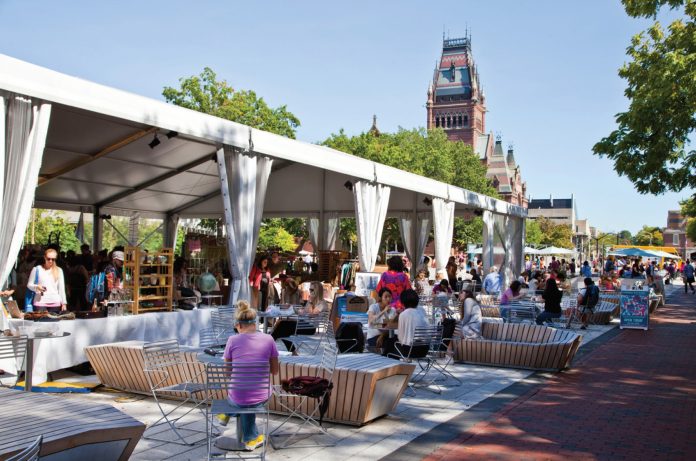 Cannon Ivers is a Director at environmental consultancy LDA design and alumnus of the Harvard Graduate School of Design. The case study discussed here and in the Landscape Journal is one of 27 that will appear in a book he is publishing with Birkhauser in the spring of 2018, loosely titled 'Space for Change: The Culture of Curated Landscapes'.
---
Increased pressure on public spaces demands that our squares, streets and parks are renewed and refreshed as a cultural overlay to the urban infrastructure; programmed and changed as an ephemeral stage of human encounter and provocation. The dynamism of urban spaces in cities like London, New York, Barcelona, Paris, Chicago, Montreal, Boston and Copenhagen demonstrate a richness of programmability, which becomes the lynchpin of public life and the catalyst for community cohesion.
While studying at the Harvard Graduate School of Design, I developed my fieldwork and observations into a number of case studies that examine the spatial qualities, use of space, and quantity and variety of overlaid objects in urban open spaces. One such case study was of a plaza at Harvard University, designed by Boston and Los Angeles-based urban and landscape design firm STOSS.
STOSS completed their redesign of the space, now known as 'the Plaza', in 2013. North of Harvard Yard, the plaza is at a confluence of pedestrian movement which is the busiest intersection on the campus. Its limited public offering resulted in a space of transit; something one passed through without taking time to linger. STOSS's design responded to pedestrian desire lines between campus facilities and explored multiple configurations of potential programme overlays to activate the space.
The result is a flexible open area that hosts a programmatic calendar including farmer's markets in the summer and ice skating in the winter; a winter programme including fire pits and curling mats; and daily food trucks that occupy a bustling seating area near the pedestrian thoroughfare on the eastern edge of the plaza. Varied planting provides complexity and seasonal variation, while informal seating and offer spaces where users can be spectators, watching other users as 'performers'. A strong seating edge to the south is the signature element of the scheme; complex timber and concrete benches create a variety of ergonomic configurations that permit creative use, and as aesthetically pleasing sculpted objects, that do more than clutter the space when not occupied.
Through strong design execution and strategic programme planning throughout the design process, the Plaza balances its multiple functions and serves as a benchmark for the intelligent use of open space.
Read more about Harvard Plaza in the latest issue of Landscape, the Journal of the Landscape Institute.