Ian Lindley makes the case for more accessible and interconnected green spaces in an around urban areas
With a continuing housing crisis and calls to review the role and future of green belt, we need to consider other ways to better create and integrate multi-role landscapes within and around our urban-centred populations. Long-standing complaints against green belt include:
it isn't necessarily scenically attractive or accessible to the general public;
by constraining urban areas and the availability of developable land, green belt increases property prices and constrains economic development;
it increases commuting distances for those forced to live beyond its outer edges, which reduces urban sustainability; and
it reinforces inequality between those lucky or rich enough to live within green belt and those that do not
Green belt is seen as a constraining girdle, often inaccessible and irrelevant to many. Poor development edges, uncontrolled public access, fly-tipping and withdrawal of land management interplay to erode the quality of much green belt on its inner urban edge, and also undermine its public backing. Development that infills and rounds off the urban edges can erode accessibility to the inner boundaries of green belt and further reduce its importance to many. If green belt is to remain relevant, it needs to be part of a positive approach to its long-term management, enhancement and adaptation outside formally designated public parks. This requires resources.
The 1947 'Finger Plan' for the Copenhagen formalised the use of 'fingers' of open space spreading from the countryside through the heart of urban areas. This approach was implemented from 1988 by Leicester City Council, in preference to seeking green belt designation, to manage urban growth. Green wedges linked with narrower green corridors provide an interconnected network of accessible, managed green space across the city. Catering for casual and formal play, recreation, education, sport, storm water management, air quality improvement and green commuting, this network includes most of the city's remaining sites of ecological interest outside specially designated local and national nature reserves in the wider county. The network helps to improve the quality of life for residents and provides an attractive setting for new investment.
Positive management of public access and urban fringe activities is important to better supporting farmers and other landowners to cope with the pressures of adjoining urban populations, while creating opportunities for public education and involvement with land management. It should help to bring urban and rural populations together. In Leicestershire, beyond the city boundary, project coordination by the city, county and adjoining district authorities provided for round-city access along managed and waymarked byways between green wedges. Positive landscape management and its adaptation to meet changing needs can counter any decline of landscape and/or ecological value that is often associated with the urban fringe.
Where green belt may suffer continued erosion along its inner edges, use of green wedges ensures continuing proximity of green space and this its relevance to adjoining urban populations. Green wedges can expand alongside growth corridors, which in turn benefit from a range of accessible, open-space services. Development can contribute to the cost of adapting green wedges to meet the needs of growing urban populations in adjacent growth corridors. Their interrelationship provides a permanence for green space investment to counter the negative effects associated with 'hope value'.
Green wedge (GW) and growth corridor (GC) plan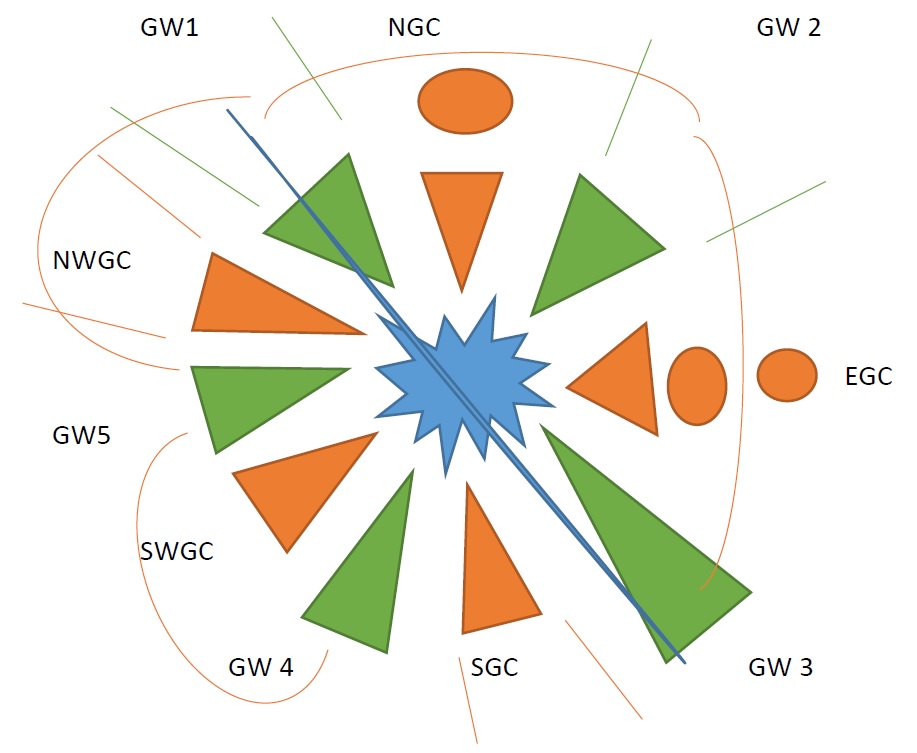 GW 1 and 3 include a major river with flood retention and open spaces for ecological, landscape and recreation uses, and are linked via waymarked and managed corridors
NGC (northern growth corridor) and EGC (eastern growth corridor) allow for planned urban expansion along public transport corridors and cater for continued separation – with inter-connectivity – between distinct fringe communities
Future plans will demarcate the expansion of NWGC (north-western green corridor) and SGC (south green corridor) and GW 1 and 2, which are subject to current growth pressures and denoted here for strategic protection only
Use of green wedges demonstrably tackles many of the inherent constraints of green belt:
wedges can be carefully allocated to protect and proactively manage in the long term the cherished landscape and cultural assets that society wishes to retain
permanence encourages long-term investment and community support
wedges do not encircle urban areas, but provide for intervening development growth and for public transport corridors
wedges ensure continued local access to green space services
wedge management and enhancement can be funded from associated adjoining developments, and caters directly for the needs of that population
We urgently need clarity on future positive approaches to planning for green space on our urban fringes. Green wedges provide a complementary tool for our use and lessons that could be applied to green belt if it is to continue to earn public support for its continuation.
---
Ian Lindley MRTPI (Rtd) MLI (Rtd) was Team Leader for Landscape and Nature Conservation at Leicester City Council from 1984 to 1991.