The LI and IEMA's Guidelines for Landscape and Visual Impact Assessment (GLVIA) is one of our most successful publications. LI Technical Standards Manager Simon Odell CMLI provides an update on some of the GLVIA panel's recent work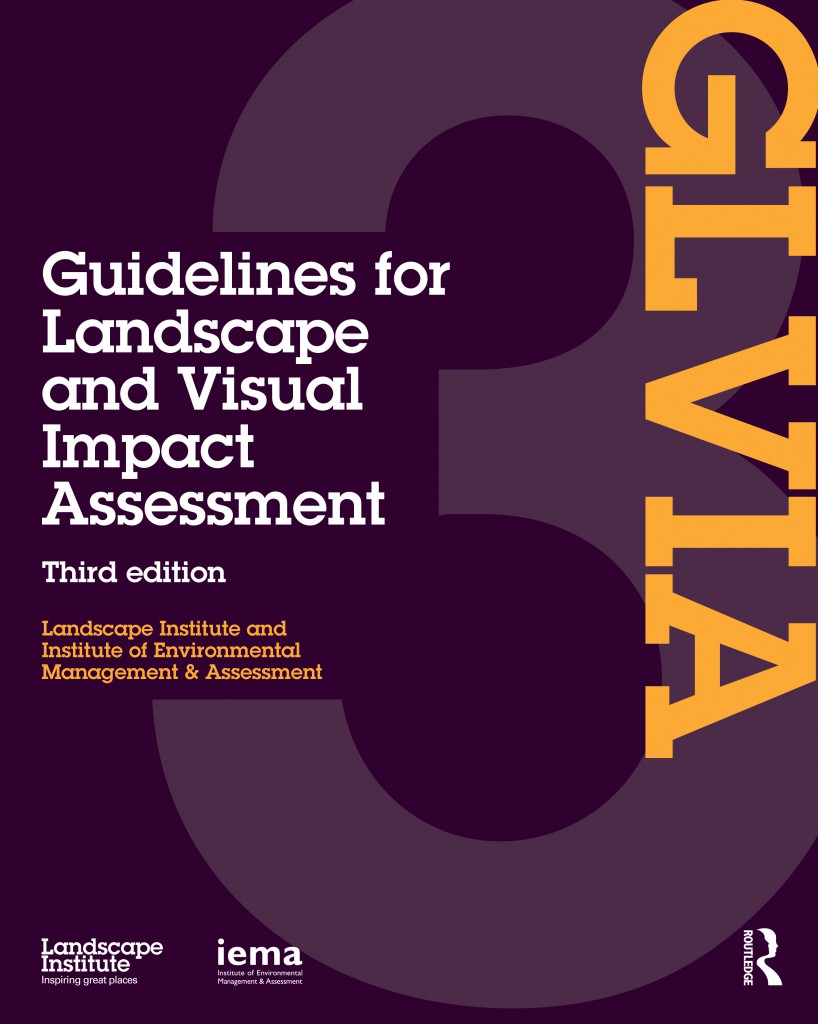 One of the most successful pieces of guidance written by the Landscape Institute (in conjunction with IEMA) is Guidelines for Landscape and Visual Impact Assessment (GLVIA). In its 3rd edition (GLVIA3) it is proving robust, albeit occasionally abused by those who play lip-service to the application of the guidelines, and sometimes misunderstood.
A GLVIA Panel has met periodically since its publication. It does this to:
Issue any clarifications (needed in the early days)
Help devise training
Act as a forum for petitioners with grievances
Look at progressing standards
The composition of the Panel has evolved and as it has done so has struck a balance between continuity and change. Following a competitive process Melanie Croll CMLI and Laura Campbell CMLI have just joined the Panel, with Sarah Gibson CMLI to join from December 2020. Existing Panel members will be stepping down over the next year and the intention is for a smooth handover from an old to new guard. The Panel will continue to reflect a balance of perspectives (public/private) and the best evolutional thinking. In addition, the unsuccessful candidates, all of whom had important contributions to make, are being invited to a discussion event which should work through many of the issues periodically raised about the guidance.
Although the Panel is in no doubt that GLVIA3 is robust, still very much fit for purpose and does not require a rewrite, it does discuss other concerns which may require some supplementary information, or guidance, CPD offerings or articles for the Journal. For example, it recently aided the preparation and issue of guidance documents in respect of Residential Visual Amenity Assessments and Visual Representation of Development.
At its latest meeting topics raised for future discussion included:
• Links to climate change
• Review of cases (Case law, precedent)
• Legislative context update (inc EIA)
• Training needs
• How to interpret geographical extent, susceptibility and magnitude
• How to assess effects on designated landscapes
• Night-time assessment
• Links to Ecosystem Services & Natural Capital
• Accessibility of the guidance
• Digital presentation of LVIA
• Role of LCA in relation to landscape receptors
• Ethics/Code of Conduct – LVIAs accompany a planning application, not "support".
• Other professionals' views of GLVIA3 (e.g. planners)
• Refreshing our links with IEMA
Although some, when viewing this list, may wonder if GLVIA3 is falling short, whenever 'petitioners' have been invited to present to the Panel and been pressed, most will confirm that GLVIA3 is still very much fit for purpose. The call for updating has in the Panel's view more to do with a lack of quality in submitted LVIAs then with GLVIA3 being out of date. As a consequence, one specific discussion held at the latest Panel meeting was on promoting the need for members to secure a formal review of their own work. It was noted this could help flush out any inconsistencies between conclusions and baseline, assist objectivity, and help more consistency across the different instances of application of LVIA. Action in this area is now being devised.
The Panel heard recently about the refresh of the Design Manual for Roads and Bridges (DMRB) and in particular document LA107 on "Landscape and Visual Effects". Since LA107 forms part of the contract for a Highways project, there has to be agreement to a 'departure'. The Panel has been made aware of some concerns about its compatibility with GLVIA3, particularly in relation to sensitivity, value and the use of a table for decision making. The Panel will raise this at Technical Committee and work with LI staff involved in advocacy and influencing to see what may be done.
The Panel also heard about recent work led by Rebecca Knight for the LI on Valued Landscapes. Thirteen landscape professionals with specialist knowledge in this field met in March to discuss this topic and four are now writing a paper which it is hoped to publish as a Technical Note later this year.
Over the next six months other actions that the Panel will take forward include: looking at options for supporting further CPD; reminding members of the Code of Conduct; encouraging the reinforcement of links with IEMA, and working on a number of supplementary papers and articles for discussion.
Simon Odell CMLI
LI Technical Standards Manager