A new online CPD service went live last summer, allowing LI members to review and record their CPD throughout the year, wherever and whenever they need. Here's why you should be making the switch to the new service today…
A new online continuing professional development (CPD) recording system went live for members last summer.
CPD is a crucial part of LI membership. The LI Code of Conduct requires all corporate LI members – that's everyone except student, retired, and affiliate members – to undertake CPD activity. An ongoing process of planning, learning, demonstrating, reflecting, and reviewing, CPD helps members remain competent and relevant in a challenging, fast-moving professional environment.
Available through the My.LI members' area, the new CPD recording system allows all members to set and view their CPD goals and record and review their activities throughout the year, wherever and whenever they need.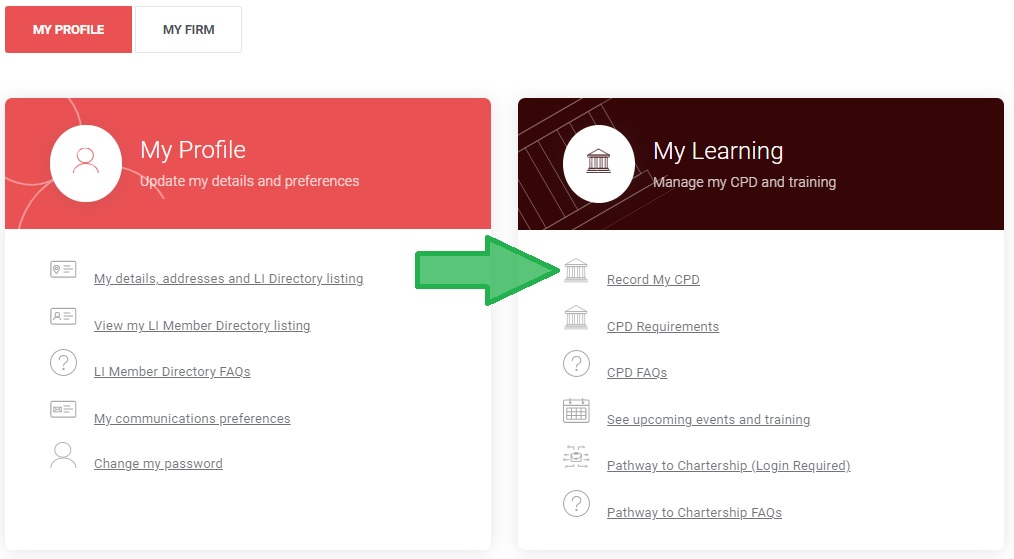 Here's why you should be using the new system…
1. Being at the top of your game is more important than ever
The last 12 months have been disruptive, to say the least. But the COVID-19 pandemic is just one challenge. The climate and biodiversity crises remain the foremost issues of our age, and landscape practice will be instrumental in helping to tackle them.
'Continuing professional development is still a critical aspect of landscape practice. In fact, it's more important than ever,' said LI President Jane Findlay. 'Our sector needs to be at the top of our game if we want to lead the green recovery from this pandemic (and we do!).
'With the new competency framework announced last month, now is the perfect time to review your objectives. Are they in line with our core, landscape, and professional competencies? Are they best placed to help you meet the challenges this last year has posed? Do they reflect how your role has changed, and how you want to progress it in the future?'
2. We've published a new competency framework for landscape
Reflecting the continually changing needs of our sector and the communities it serves, the LI has published a new competency framework for members, which will eventually replace our Elements and Areas of Practice.
Though the framework will only apply to new member enrollments – we won't reassess existing members – you'll start to see the competency framework underpinning all our activity. Over the coming year, the competencies will begin to inform the topics covered in our CPD events programme. They'll influence how we frame our policy and technical work. And the online CPD recording system already uses the competency framework as the basis for recording CPD activity.
Because the online service already links to the new framework, it's the easiest way to ensure your ongoing development remains relevant to key areas of modern landscape practice.
3. CPD monitoring is coming up…
For all but student, affiliate, and retired members, and associate members who are actively engaged with the LI's Pathway to Chartership, undertaking CPD is a requirement of ongoing LI membership.
Every year, we select at random a number of eligible members and call in their CPD records for monitoring. This helps us ensure that our members are meeting their obligations and maintaining the required standards of skill and professionalism.
The next CPD monitoring period is 1 July 2020 to 30 June 2021. We'll be notifying selected candidates in April. As we're now halfway through the CPD year, it's a great time to log on, review your objectives and make sure they're still in line with your development plan, and start working towards a finished record for the summer!
4. …and soon we'll be checking everyone is completing CPD activity
One of our obligations as a royal Chartered body is to help our members continually develop their professional skills. Though CPD is a mandatory part of LI membership, at present, we're only able to check the records of members who take part in annual monitoring.
In the future, we'll be asking all of our eligible members to complete and submit an annual CPD record.
We'll continue to randomly select a percentage of the membership to undergo an in-depth quality assessment, as we do now. But in future years, we'll be checking that all members have accessed and used the online system and submitted records.
5. CPD will be online-only by 2022
For the 2020-21 CPD year, members selected for CPD monitoring will have the option of continuing to fill in our old CPD recording form if they wish. From 2021-22, we'll be asking all members to use the new online recording system.
This means that for the CPD year starting 1 July 2021, the old CPD recording form will no longer be valid for monitoring. If you start using the service now, not only will you be ready for the future – you'll also have to hand the most up-to-date tools you need to continue excelling in your career.
The new online CPD recording system aims to make it as easy as possible to record your CPD activity and learning throughout the year. If you haven't already, visit your My.LI members' area and start using the service!
Find out more about undertaking and recording CPD.
If you have any questions about CPD or the transition to the online service, please get in touch via cpd@landscapeinstitute.org.