With personal outdoor space in high demand and in short supply in the capital, an amazing new water landscape playground of natural stone set amidst a green oasis has been revealed in the heart of central London.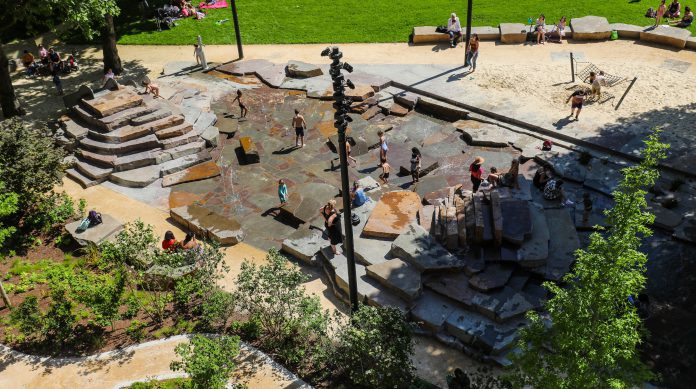 This article is a sponsored post.
Elephant Springs, the regeneration project spearheaded by Lendlease and Southwark Council, prides itself with carefully arranged stone formations, cascading water channels, sandy lagoons all surrounded by atmospheric lighting set in Elephant Park, one of London Zone One's contemporary green spaces. 
Artist Mel Chantrey of The Fountain Workshop, who previously designed the waterscape for the Diana, Princess of Wales, memorial playground, collaborated with stone suppliers Hardscape, the client teams, key stakeholders, landscape architects' Gillespies and the surrounding community to create an inspirational and educational space to provide mental and physical health benefits of spending time outdoors with nature. Elephant Springs brings a natural play experience within the heart of Elephant & Castle, London. 
Elephant Park sets itself the high ambition of being among the most sustainable inner-city urban regeneration projects in the world; to truly deliver above and beyond what is expected and to make a real difference for the area, ensuring it becomes part of London's already rich tapestry of green environments. 
The Park and the landscaping were specifically designed to enhance biodiversity in the area, featuring a balanced ecosystem that combines dry and moist areas, with hundreds of new trees, as well as retaining many mature trees. 600 colourful Prima Porphyry stone blocks and boulders, an igneous rock formed 230 million years ago, were meticulously sourced by Hardscape from a quarry in the Albiano region of northern Italy. 
The specification process of selection of the raw material all had to be done online due to Covid restrictions at the time, so this was a huge undertaking for Hardscape' in-house design team creating detailed drawings from Gillespies original drawings and Mel Chantrey's plasticine models with CGI measurements taken from online imagery and video footage and then creating measured to scale 3D models and stone schedules. Hardscape managed the prebuilt phase; the main featured in Italy and gained sign off and comment by the client team remotely using online digital 24-hour available viewing platforms. Hardscape then deconstructed the materials to be rebuilt when arrived on site by the contractor. Behind the scenes, Hardscape's sister company IP Surfaces were involved in drilling, shaping and processing the underside of 2-4 tonne Prima Porphyry boulders to house the water fountain infrastructure. 
Right from the start of the project, Elephant Park has committed to be net-zero carbon in operation by the time the project completes in 2025. 
Elephant Springs opened to the public in June 2021 and can be found at Elephant Park, Elephant Road, London, SE17 1UB. 
Image courtesy of Lendlease.