Since the very first WoodBlocX Landscaping structure was installed on a rooftop garden above the south London skyline, the versatile modular system has been continually specified on projects across the UK and Europe.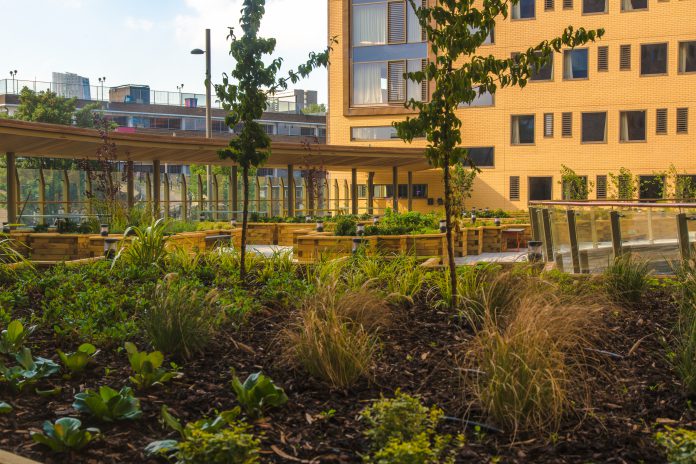 This article is a sponsored post.
The combination of design flexibility, natural materials and opportunities to increase biodiversity has made WoodBlocX a popular choice for street furniture, raised planters and retaining walls in public spaces, residential developments, roof gardens and retail schemes. The modular nature of the WoodBlocX system means it can be adapted with bespoke cuts, making the design possibilities virtually limitless.
All WoodBlocX structures are built in the same way using the company's pre-drilled and treated FSC approved wooden blocks and strong dowels. All parts are manufactured in its sawmill in the Highlands of Scotland and everything is cut to size, therefore there is no additional wood waste on site making installation quick and straightforward across its three core product categories.
Street furniture – Creating spaces for people to live and interact outside is a key aspect of many landscaping projects. The integration of street furniture is an ideal way to do this, WoodBlocX designs mix functional and spacious seating with space to integrate plants and trees. With more than 30 pre-designed street furniture options the company also offers bespoke designs to ensure clients get the right fit for their project.
Raised planters – Providing a long-lasting and natural alternative to brick, concrete and sleepers, WoodBlocX attractive raised planters are hardwearing and versatile and can be built to any size, be designed in a wide number of shapes and can be built on any surface, making them ideal for new projects or to retrofit to an existing space.
Retaining walls –  WoodBlocX also offers retaining wall solutions. Thanks to the many joints of the BlocX assembly system, it's walls are flexible enough to withstand frosts and ground movement, and won't distort or crack under pressure. A single wall (75mm wide) will hold earth to a height of 1m, and the narrow BlocX means that there is a lot more planting or path space above and below than there would be with something like sleepers.