In addition to health benefits for patients and staff, investment in greenspace around hospitals and healthcare centres has helped tackle climate change and biodiversity loss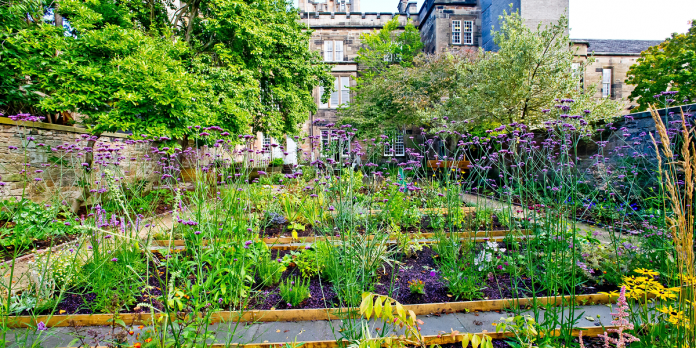 The National Health Service (NHS) Greenspace Demonstration Project has helped build links between the health and environment sectors. In addition to health benefits for patients and staff, investment in greenspace around hospitals and healthcare centres has helped tackle the biodiversity and climate change crises. Partnership work has engaged local communities to widen use of the outdoor estate even further.
The NHS Greenspace Demonstration Project, established in 2012, is coordinated by the Green Exercise Partnership (GEP): a joint venture of NHS National Services Scotland, NatureScot, Public Health Scotland and Scottish Forestry. Between 2012 and 2019, with funding of £3 million from the Scottish Government, NHS Scotland health boards and the GEP, greenspace improvements were undertaken at thirteen sites across Scotland. Additional sites have now been added to the programme, and the emphasis of the Project is now to mainstream the provision, management and use of high quality NHS greenspaces into policy and practice.
Up to 2019, the Project had influenced over 87ha of NHS land, planted more than 10,000 trees, made or upgraded 20km of paths, created four therapeutic gardens and fifty seating areas, and brought many areas of woodland and meadows into better management. These enhancements help NHS sites provide nature-based clinical interventions and therapies as well as space for staff to relax and de-stress. They also help link NHS sites to their surroundings and increase opportunities for active travel.
In contrast to these new facilities, the Gartnavel hospitals campus in Glasgow dates from Victorian times. Built as a 'lunatic asylum', the original Gartnavel Royal was encompassed within a designed landscape of parkland and trees – the ethos of the Green Exercise Partnership has long roots. This project focussed on developing the path network to facilitate access to the existing greenspaces. It also worked on landscape management aspects, such as reduced mowing regimes to encourage wild flower areas, and greater woodland management. The original walled garden hosts therapy and community activities, including volunteering, that provide a further range of benefits.
Landscape appraisals and master-planning for larger sites are other ways in which the Demonstration Project has aided health boards to identify priorities and improve greenspace at their sites. Linking with wider green networks and neighbouring communities helps connect the NHS facilities as well as increasing biodiversity and contributing to action on climate change.
The lessons learned from the Demonstration Project have been shared, to enable delivery of the many benefits beyond the sites themselves. Case studies, some of which are in this blog, have been provided, which include guidance to help promote healthy habits through design. Research reports, for example into stakeholders' views, have also been produced.
The Demonstration Project has shown that embedding good design into new and existing NHS greenspaces helps improve the health and wellbeing of staff, patients and communities – which must be a better outcome for us as well as the planet.
---
Read more from NatureScot: