Tom Turner makes the case for involving landscape architects in cycleway planning and design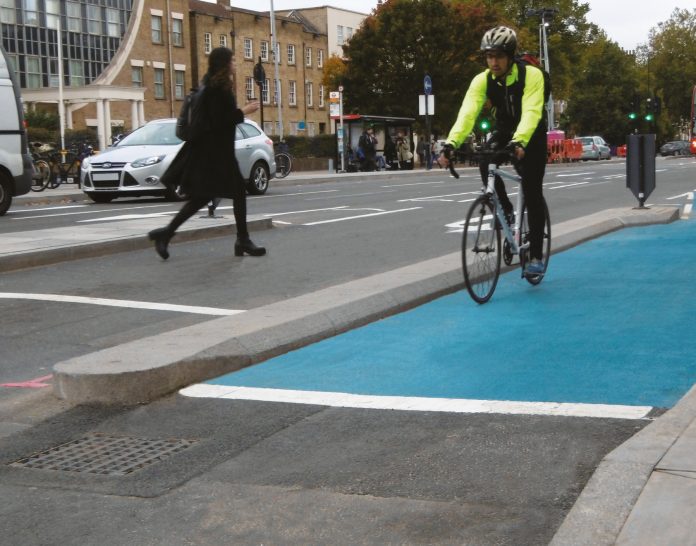 Written in the spirit of Sylvia Crowe's Landscape of power and Landscape of roads, I have done 18 blog posts and videos on the need to plan and design a London Cycling Landscape (LCL). The aim is to support the case for involving landscape architects in cycleway planning and design. Cycleways are part of a city's green infrastructure, and they require landscape assessment. If any LI members have been involved in the planning, design and/or assessment of cycle networks I would like to hear from them. It would be good to have a LI interest group to draft a policy paper. The videos were 'inspired' by 20 years of cycling in Edinburgh followed by 45 years of cycle commuting in South and East London. My first two-wheeler, at the age of 5, was cerulean blue and second hand.
Edinburgh had cobbled streets, tricky tramlines, no provision whatsoever for cyclists and at least seven hills. When I moved to London in the 1970s, it had equivalent provision for cycling, but the streets were flatter, smoother and less windy. Edinburgh now has better cycle infrastructure than London, and has spent 10% of its transport budget on cycling. (A Scotsman came to a Stop Killing Cyclists demo outside the Treasury in Whitehall on 11 February 2017, begging for TfL's budget to be raised from 1% to 10%. After saying 'I bet you're wondering what a Scotsman wears under his kilt', he let us glimpse the answer: lycra.)

Ken Livingston enjoyed talking about London cycling but provided no useful facilities during his two terms as Mayor. Boris Johnson then disappointed London cyclists in his first term by spending money on Potemkin superhighways of little use. They were strips of slippy blue paint on roads. But in his second term, Johnson came up with the goods. He fought everyone who needed fighting to get London's first 'real' cycle superhighways built. Best by far is the Embankment section of the East-West Cycle Superhighway CS3. I give it four stars instead of five because it suffers from traffic noise and air pollution. The best hope for a five-star Cycle Superhighway is on the west bank of the Isle of Dogs.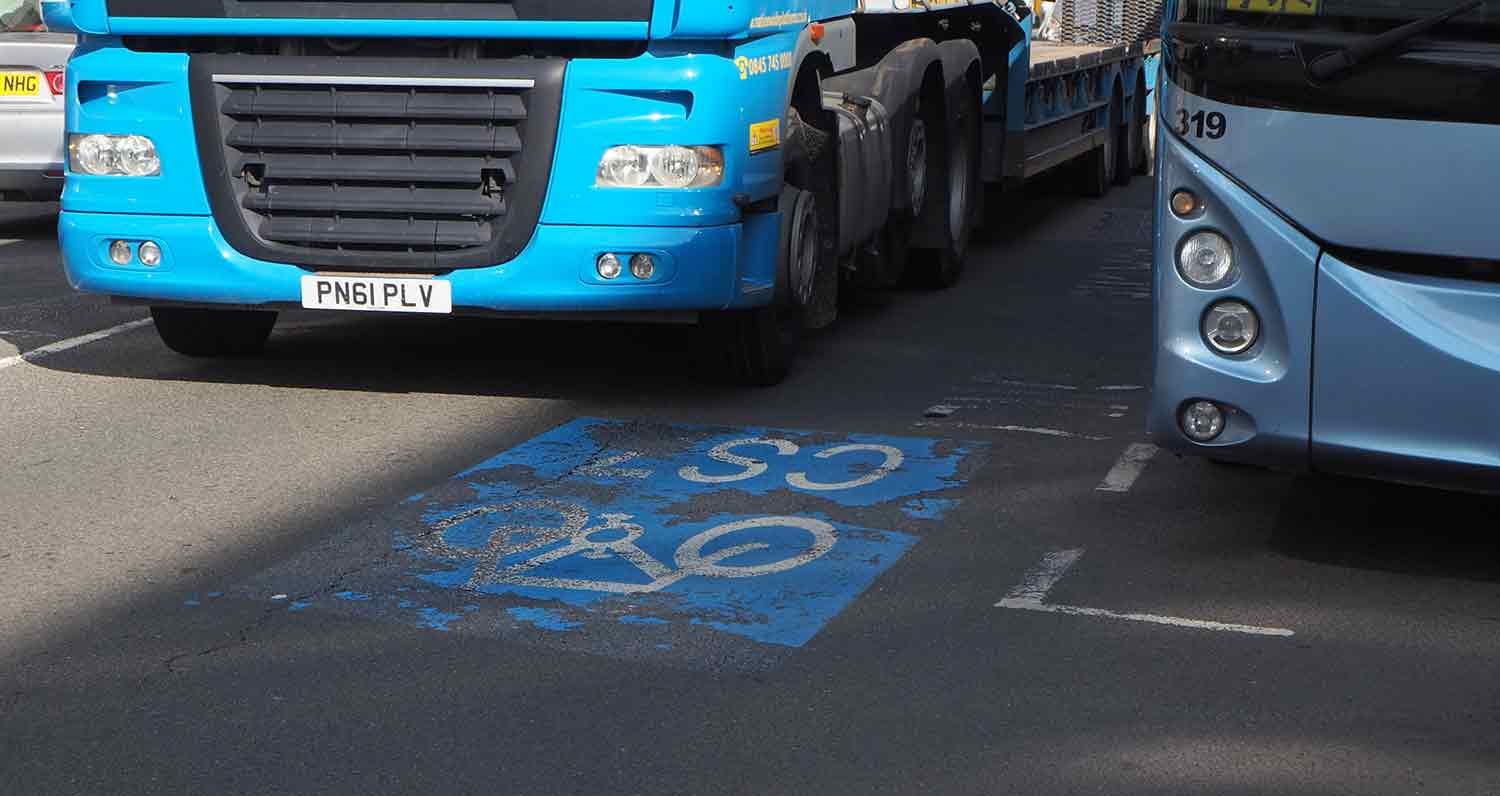 If you visit Central London without your own wheels, it is worth hiring a Santander Bike to ride between Westminster and Blackfriars. In the morning and evening rush hours there are great opportunities for the schadenfreude joy of bowling past indignant plutocrats in stationary limos.
Mayor Sadiq Khan says he will outspend his predecessor on London cycling infrastructure. Can the landscape profession help London catch up with Edinburgh, Amsterdam, Copenhagen, Freiburg, Moscow, Beijing and New York in the provision of cycleways? Yes. But instead of merely engineering a 'cycle network', we should help plan and design a London Cycling Landscape.
Packets of data flow round computer networks because they have to. Cycling is a voluntary activity. Users must be enticed – by fine streets, charming greenways, fresh air, birdsong, trees, flowers and butterflies. Drinking fountains and free public loos would be an added inducement. Just as architecture is more than construction, cycle planning is more than engineering. It can be landscape architecture at its best. TfL published a cycle route assessment method in 2015. Called the Cycling Level of Service (CLoS) method, it uses arbitrary weightings and is over-engineered. Five of the TfL assessment criteria are drawn from the Dutch CROW manual: Safety, Directness, Coherence, Comfort and Attractiveness. TfL added a sixth criterion: Adaptability (re transitions between modes and adaptability to usage). Cycling bloggers welcomed the method. I find it too complicated for cyclists and evidence for it being used only in Newham. Since we all understand Amazon's star rating system I suggest a Simplified Cycle Route Assessment Method (SCRAM) for users of cycling infrastructure.
'Attractiveness' is a better criterion than one might think. First, it is accepted by CROW, CLoS and other assessment methods. Second, it pinpoints an essential characteristic of good cycle infrastructure: it must attract users.The Embankment section of the East-West Cycle Superhighway CS3 is attractive because of its directness and because it was built in a pre-existing high-quality urban landscape.
Another problem with cycleway planning in London is the confusion of commuter use with leisure use. The Embankment section of CS3 serves both objectives; the Upper Thames Street section has negative scenic quality, though it leads to a leisure destination, the Tower of London.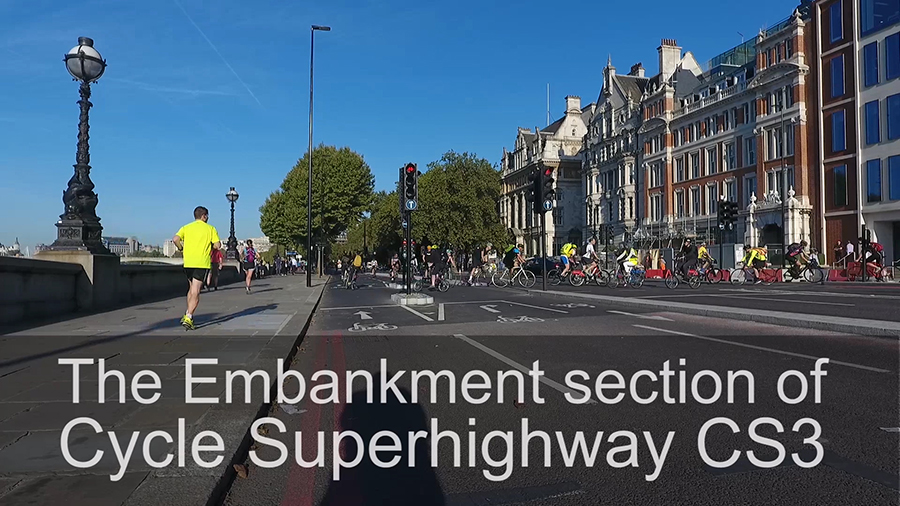 I hope Zac Goldsmith failed to become mayor of London in 2016 because he offered so little to the owners of London's 4.4 million bikes. Goldsmith said he would 'invest' in Quietways instead of Superhighways – because they are cheaper. Quietways are built on backstreets which are 'quiet' because they take users, slowly and indirectly, from nowhere to nowhere. They are a compromise between leisure and commuting design objectives. They fail to satisfy either goal. As G. K. Chesterton observed: 'Compromise used to mean that half a loaf was better than no bread.' Now it means that 'half a loaf is better than a whole loaf'. Q1 was the first London Quietway to open, in 2016. Only a quarter of its length is segregated from motor vehicles. The route is useful for short journeys and useless for long journeys. We should tell mayors that using desire lines for routing paths is a key principle in landscape architecture.