The history of placemaking is mired in colonialism. With the landscape sector being one of the least diverse in the country, how do we build a profession that works for everyone and rights the wrongs of the past?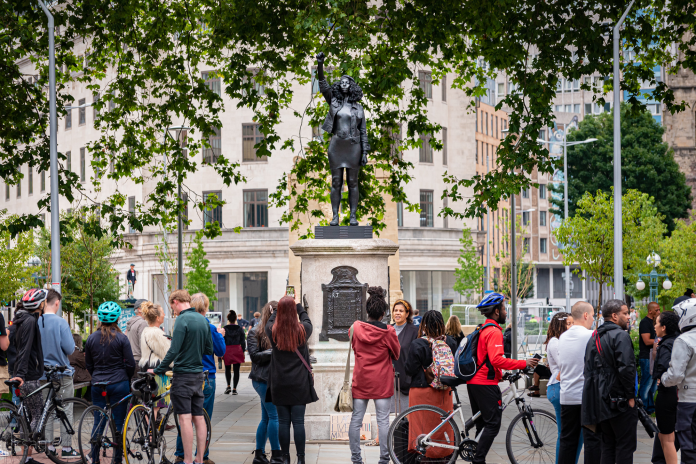 Black history is British history. For just 31 days out of the year, UK Black History Month asks us to focus on black peoples' countless contributions to our nation's history and success. And while it emphasises positive achievements, it remains inextricably linked to the crimes and injustices perpetrated against black communities for centuries.
Narrowing history's focus thwarts its ability to cherry-pick only the palatable elements. In the same breath that we talk of great achievements, we must also acknowledge the transatlantic slave trade; historical omission; exclusion, segregation or persecution.
What does this mean in the context of landscape and place?
In a recent article written for the LI blog, Diana Chrouch argued that '…public spaces [should] reflect a sense of respect and inclusion for the people who live in and use them'. Yet, just 10 days prior, Black Lives Matter demonstrators in Bristol had pulled down a statue of notorious slave trader Edward Coulston. As Diana observed, how can people descended from slaves be comfortable in the shadow of a memorial to a man who transported over 84,000 human beings against their will?
The history of placemaking is mired in colonialism. And in the years since, landscape and placemaking professions have done too little to either acknowledge or address these historic injustices.
Looking inward, one can begin to see why this might be the case. The built and natural environment sectors are some of the least diverse in the country; 95% of LI members (compared to 82% nationally) identify as white. And this data doesn't distinguish between non-white ethnic minorities, among whom is a great disparity of lived experiences. The number of black landscape professionals specifically is certainly far lower.
'Great courage and inner strength'
'For a Black or Asian person to choose work in the environmental sector takes great courage and inner strength', wrote Dr Anjana Khatwa in a recent article for the Heritage Lottery Fund (HLF) blog. 'You knowingly put yourself in extreme cultural isolation and at risk of hostility, racism and discrimination. Such a barrier is something our white peers do not need to consider.'
The reality of unconscious bias means that a predominantly white institution will – however unwittingly – tend to overlook the views, experiences and needs of non-white communities. The lack of visible role models results in a lack of awareness among potential entrants into the profession who might challenge this. And with fewer mentors and sponsors within the profession who understand their experiences and professional challenges, black practitioners have found it more difficult than their white colleagues to progress their careers and affect real change. Some of these members have shared their stories with the leaders of our profession, highlighting the real need for change.
This is in addition to educational barriers. Centuries of systemic inequality, economic disparity, an ethnocentric curriculum, and a lack of adequate support services have led to an attainment gap in UK higher education. As a predominantly higher education-based career path, landscape is a prohibitive option for many black students.
The LI's journey towards equality
The LI established its Diversity and Inclusion Working Group in 2017. It identified five priority areas – disability, ethnicity, gender, sexuality, and social and economic background.
The worldwide Black Lives Matter protests this year were a wake-up call. In the context of a global pandemic, they forced an already reflective global community to truly scrutinise the power structures that continue to empower one group at the expense of another.
Since publishing an initial statement in early June, we've begun work on an action plan to make landscape a more ethnically diverse profession, as well as more actively address racism and past injustices. With the input of our members and our wider sector, we are developing a strategy to:
Offer better support to existing Black, Asian and Minority Ethnic practitioners in landscape.
Welcome more Black, Asian and Minority Ethnic members to the profession, so that our make-up better reflects that of society.
Re-evaluate our internal operations: policy, membership processes, values, culture, and how we acknowledge and address historical injustice.
Re-evaluate landscape practice, and how we regulate firms and the profession.
Do more to promote and acknowledge the work of Black, Asian and Minority Ethnic practitioners in landscape in the UK and other parts of the world.
Enhance equalities monitoring to identify successes and any shortcomings of the changes we're making.
We are working in England to provide a wider range of landscape education, to help drive inclusion and access to this profession. Apprenticeships will offer a paid route to qualification, and many accredited programmes offer part-time study while working. We want to explore more bursaries and support for courses of all types. We also see employers as critical partners on this journey.
We aim to fully develop the draft action plan this month, with a view to submitting it to Board for approval in December.
If you would like to contribute to the action plan, or to our diversity and inclusion work more broadly, please get in touch via diversity@landscapeinstitute.org. We warmly welcome participation from Black, Asian and Minority Ethnic voices in particular, and from other groups who are underrepresented in our and related sectors.
The quest for equality does not end on 31 October. We urge all our members to keep this discussion going, to continue to listen, take responsibility, be proactively and constructively anti-racist, and to help make our profession, and the world, a better place.
---
Endorsed by the following members of the LI's Diversity and Inclusion forum: Daniel Cook, Mary Karooma-Brooker, Dr Bridget Snaith, Akash Wadhawan, and Jill White