Some of the recent news about Fraxinus and the pest species that trouble it.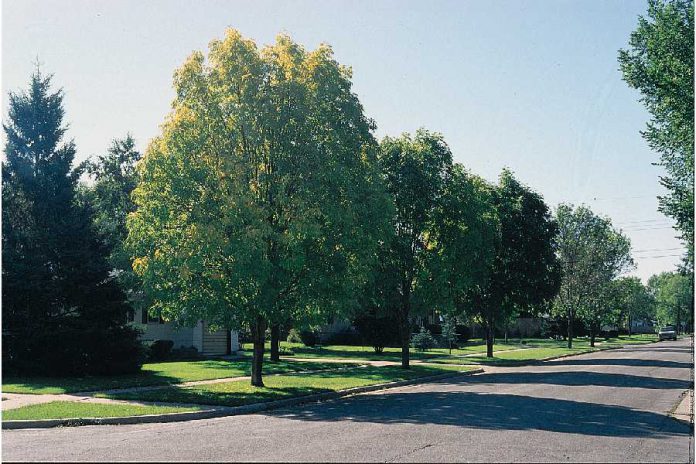 Ash Dieback (ADB) has now spread to almost every part of the UK and restrictions on the movement and planting of ash in UK have now been removed. If you specify Fraxinus spp. for a trial planting in some projects, the LI has been given some advice on species selection by Professor Richard Bugg of the Royal Botanic Gardens, Kew (RBG Kew):
Fraxinus mandshurica is quite resistant to ADB. It is also quite resistant to emerald ash borer (EAB), and looks quite similar to Fraxinus excelsior.
Fraxinus americana is similarly resistant to ADB, but susceptible to EAB, so not a good choice for the long term.
If you want to use Fraxinus excelsior, it is recommended only to use offspring or clones from trees that have already proved to have low susceptibility, although there is no guarantee these will be resistant in the long term. 1-5% of Fraxinus excelsior are usefully resistant to ADB, but climate and site play a key role in tolerance; soil type, moisture, air humidity temperature, stand age, density and presence of secondary pathogens are key factors. Young trees in open parkland sites generally do better than ash planted in ash-dominant, leaf-litter-rich woodlands. Fraxinus excelsior appears to have moderately good tolerance of EAB, but where the trees have already been subject to ADB they may be more susceptible.
Selection and breeding programmes for resistant trees in the long term have started and we will update members with news of their progress. As one example, 3000 ash trees have been planted in Hampshire as part of a DEFRA funded project – a collaboration between RBG Kew, Forestry Research, FERA and Future Trees Trust. This is a five year trial to identify which of the trees selected from across Britain are most tolerant to ADB and useful for timber production and biodiversity.
More information:
A paper from the UK Government last year looked at conserving our ash trees and mitigating the impacts of pests and diseases of ash. It examines a vision and high-level strategy for ash research and considers ADB and EAB in mainland Europe and UK.
The simple message from the John Innes Centre remains though that Emerald Ash Borer must be kept out of UK for as long as possible – by restricting the movement of ash wood as timber and firewood from areas affected by EAB (or neighbouring areas).
Annabel Downs CMLI