Professor Alan Simson, a Chartered Landscape Architect and Urban Forester, outlines the benefits that trees can bring to urban landscapes
A growing canon of research proves that the inclusion of trees in and around urban areas has a broad spectrum of benefits for all who live in or visit them. Trees can, for example:
promote biodiversity
limit the risk of flooding
offset carbon emissions
improve air quality
cool our towns and cities
provide focal points to improve social cohesion
promote inward investment and job creation
increase property values
improve children's learning
encourage safer driving
Street trees in particular play an integral role in supporting healthy urban communities. They have a significant social impact by improving human health, reducing crime, increasing community interaction and boosting property values. Thus, trees and urban forests are now globally considered as being a metaphysic for resilient towns and cities.
The planning, design, establishment and management of the urban forest has taken on an even more significant role, however. We are all aware of the health dangers of smoking cigarettes, and there is legislation in many EU countries that prohibits such activity in public places. What is less appreciated is that it has been estimated that living adjacent to a busy urban road is the equivalent of being a passive smoker. In our urban environments, reduction in air quality resulting from emissions of particulate matter, primarily PM10's and PM 2.5's from road traffic, are a serious health issue. In the UK, even short-term exposure to high levels of such pollutants can cause a range of adverse effects, including the exacerbation of asthma, effects on lung function, increases in hospital admissions for respiratory and cardiovascular conditions, and increases in mortality. Public Health England has estimated that over 60,000 people in the UK annually die prematurely as a result of air pollution from road vehicles – especially diesel-powered vehicles.
Vegetation is the most effective way of intercepting particulate aerial pollution. And trees, because of their large canopy surface area of leaves, stem and branches, and the air turbulence created by their structure, are the most effective form of vegetation for doing this. Design of the urban forest is therefore becoming more sophisticated, as the canopy area, structure and choice of tree species are critical in intercepting the maximum amount of particulate pollution.
A need is emerging, therefore, for a responsive concept for planning, designing, constructing and managing sustainable and resilient urban areas. This should be trans-disciplinary, cost-effective, and easy to both understand and communicate to all levels of the community. If conventional approaches to regulating urbanism are no longer reliable, perhaps an opportunity exists to develop an alternative approach? Might now be an ideal moment for urban forestry planners to step forward and start arguing for strategic, regional plans to seduce and convince policy-makers, just as urban planners did for city developments in the late 20th century? Urban forestry has the credentials to deal with these unstable conditions because it continually adapts and transforms itself and can accommodate a myriad of forces and initiatives. Urban forestry is getting more sophisticated and has moved from being seen as a 'green cosmetic' to becoming an integral part of a new, more resilient form of European urbanism.
To respond to this challenge, the Landscape Institute has recently set up an Urban Forestry Initiative, to draw together the essence of landscape architecture and urban forestry into a trans-disciplinary activity that will fully engage with these issues. This is a 'big idea', and it may be one of the 'big ideas' that will be part of the driving force behind the 21st century landscape and urbanism perspectives in all our cities, whether in Europe or elsewhere.
It is the landscape architect's mission to shape a better world. To do so, we must shape better cities. Helping to create places where people can aim high in hope and work is the role that landscape architecture and urban forestry can play in the emerging, world-wide movement of New Urbanism, based very much on the premise that the true wealth of our towns and cities can only really be measured in terms of the well-being and the culture of our people, and the sustainability and resilience of our environment.
Some would say that these promises are unrealistic: maverick views that cannot be realised in the contemporary urban debate. It could be equally argued, however, that today's maverick views are tomorrow's orthodoxy. Perhaps the challenge for all of us who understand that trees matter is to find ways of reaching that promise.
What better place to start than National Tree Week?
---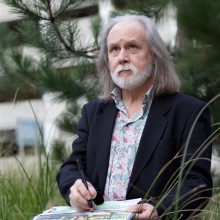 Professor Alan Simson is a Professor of Landscape Architecture and Urban Forestry at Leeds Beckett University School of Art, Architecture and Design. He is also Joint-Coordinator of the European Forum on Urban Forestry; Head of Research and Enterprise at the Leeds School of Art, Architecture and Design; and Chair of the White Rose Forest. He has led a number of European urban forestry research projects and is involved in several international and regional activities and initiatives related to green infrastructure and urban forestry.