TGP's Nicola Garmory uses her school grounds work as an opportunity to engage students with landscape, while Ian White Associates get constructive at Pitgaveny Farm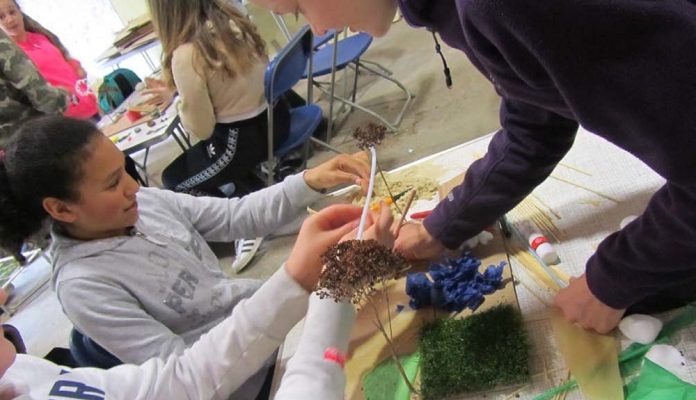 Much like Scott Matthews and Wiki Szulik demonstrated in our last Ambassador update, two practices, Ian White Associates and TGP, have used work projects as an opportunity to engage with local schools and promote the landscape profession. Read about their experiences below.
---
Pitgaveny schools day
In May 2017, Pitgaveny Estate and Farm in Morayshire, North East Scotland, invited pupils from nearby Elgin Academy to find out what running a farm involves. Ian White Associates Landscape Architects (IWALA) – who are currently masterplanning a 100ha development at Pitgaveny – ran sessions to show the pupils what landscape professionals do, and how it fits into farm operations.
The firm proposed a fun, 40-minute model-making task in order to demonstrate how practitioners test ideas in three dimensions. Following a short introduction to landscape design, pupils – split into groups of three or four – sketched out their ideas before getting to the model making. IWALA's ambassadors gave pupils three theoretical site options, each of which had to demonstrate consideration of integration into the landscape: a walled garden, a skate park and an adventure play park.
The groups then presented their models in 20-second slots.
Making the models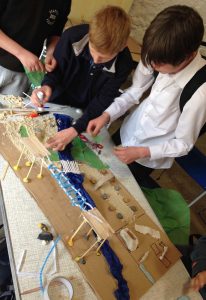 The minimal design period allowed pupils to spend most of the session discussing and developing ideas. The setting – a large barn on Pitgaveny Estate – afforded each group a large design area and plenty of space to work.
To promote unrestricted construction, ambassadors gave the pupils access to plenty of materials: sand, stones, twigs and natural moss, foil, crepe paper, cardboard, straws, wooden skewers, pipe cleaners, Plasticine and felt. To fix their models together, they used glue, wire, string, sellotape, double-sided adhesive pads and, under supervision (as the age group was 12-13), hot glue guns. They were encouraged to use as many different materials as they could.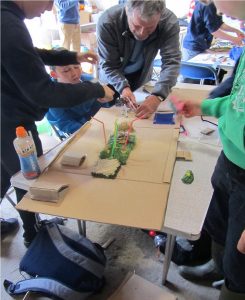 IWALA ran four model-making sessions over the course of the day, each with a class of between 20 and 26 pupils. Running each session was one landscape architect, two planners from Savills and one planner from Moray council. These people moved from group to group, dipping in to help overcome design and construction challenges, ensuring that each group had access to individual expertise. Teachers and chaperones from the farm were also on hand to help the day run smoothly.
The skate park proved the most popular project, followed by the adventure play area. Some pupils needed encouragement to engage with the walled garden idea. Through discussion, the experts managed to tease out how pupils could incorporate their interests into their design, while keeping to the brief. They worked to identify these less enthusiastic individuals at the start of the session, giving them plenty of time to engage with the project.
40 minutes proved ample time for each group to construct a model, and regular reminders of the time kept the groups focussed. Pupils also adapted well to the quickfire presentation format, with most undaunted by the 20-second slot. They managed to outline their design intent and sum up their model quickly.
No judging took place – the focus was on the task, the experience, and the pupils' ability to convey design ideas.
Read Ian White Associates's full report on the Pitgaveny Farm school open day 2017.
---
Promotion of landscape architecture as a profession
by Nicola Garmory
TGP Landscape Architects works on a number of new-build schools and educational projects around Scotland and Northern England. As part of our project work, we always aim to connect with both pupils and teachers, and when possible with parents. We believe this is useful for us to understand the exact requirements of the end user in terms of their external space for play and learning, but it also provides us with an opportunity to explain the part landscape plays in the design and delivery of, for example, a multidisciplinary project or a garden project.
We have prepared a PowerPoint presentation, which we show to demonstrate our range of skills and services in all aspects of landscape. We also prepare a digital presentation, or exhibition boards, to use for the individual projects relating to that particular school.
We have organised workshops around different themes, including the choosing of play equipment, designing 'friendship seats', and preparing plans for eco gardens. One of the most enjoyable experiences for me particularly was when I was involved in a number of primary school projects in South Lanarkshire. Kier construction arranged for all professionals working on the various new-build schools to give talks on their contributions to the design. TGP worked alongside a number of pupils at Auchenback Primary to design their own growing garden. This involved a talk on what a landscape architect would do to design the garden, and presentation of ideas to stimulate further ideas from the pupils.
The pupils had the homework task of creating models of their garden ideas. I was amazed at how much effort both pupils and parents put into this exercise, and how animated they were when it came to presenting their models to the rest of the class. Involving parents in this process also helped our promotion of landscape reach a wider audience.
We then choose ideas from each person to include in our final design.
The topics for discussion at workshops and talks are endless and can easily for the school curriculum. At Denny high School we worked with 5th- and 6th-year pupils to design an eco garden and prepare all the construction details and layout in CAD.
We believe that by reaching out to young people through our school work, that we have a direct route to raising the awareness of the profession and providing the end user with an understanding of the processes required to design the landscape.
Nicola Garmory
Director, TGP Landscape Architects

---
Interested in becoming an Ambassador for Landscape and helping the LI engage the next generation? Please contact Poppy Smith on poppy.smith@landscapeinstitute.org or 020 7685 2656.